It's no secret that China's biggest smartphone-makers, Huawei want in on Apple and Samsung's share of the mobile market.
And on Wednesday, they sent a very clear message to Apple while unveiling their flagship Mate S phone at this year's IFA tech conference.
Huawei took aim at Apple by making direct comparisons between its new Mate S and the iPhone 6s Plus in a demo that reportedly involved the use of an Orange (no points for guessing why) to show off Mate S' pressure sensitive technology.
By placing an orange on the Mate S screen, Huawei was able to reveal the fruit's exact weight -- 280g to be precise.
Unsurprisingly, the smartphone-maker did not repeat the experiment using apples -- presumably the fruit is just too close to enemy lines.
Their message will not be lost on Apple, who are rumoured to be including Force Touch technology in the new iPhones set for a big reveal next week.
Apple first unveiled Force Touch in its smartwatches last year. It's a type of technology that allows you to choose a range of different actions depending on the pressure applied to the screen.
For Mate S, the varying degrees of force administered will allow users to zoom in on pictures or preview photos stored in the gallery.
Its Knuckle Control 2.0. option also enables you to action various features on the phone, including activating the camera by drawing a "C" on the screen using your knuckles. Not sure, why we would prefer knuckles over fingers but maybe this will start a new trend.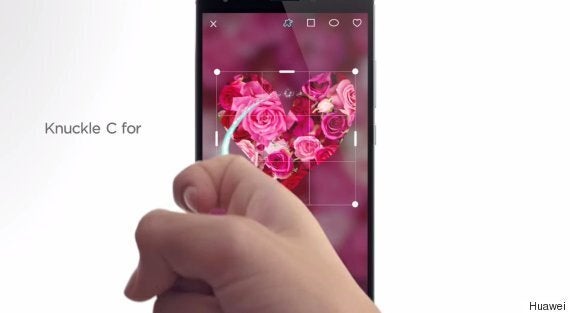 According to Engadget, Huawei CEO Richard Yu also told attendees the Mate S takes less time to charge than the iPhone 6 Plus.
It also has a 5.5-inch screen -- a reduction from Ascend Mate 7's 6-inch screen that launched last year -- and a 13-megapixel rear camera with optical image stabilisation.
Huawei appears to have also thought of its selfie loving customers, adding a front light to its 8-megapixel front camera to help make your pout Instagram worthy.
"Every business when they start has the ambition to be number one, but to be number one is a challenging task," Shao Yang, veep of marketing told the Huffington Post UK last year.
He adds: "We think if we can keep making better innovations than others we can finally be the best."
It's hard to tell if Huawei very public challenge will win over Apple customers but one thing is for sure, the mobile phone market is now more of a fruit salad than Apple would have wanted it to be.
Popular in the Community