Sir Bob Geldof has offered to open his home to four families after voicing his dismay at the migrant and refugee crisis in Europe.
The Boomtown Rats singer and lifelong charity campaigner was speaking to Dave Fanning on RTE Radio 1 on Friday morning when he extended the invitation.
Asked for his opinion on recent events in the refugee crisis, including images of the lifeless body of three-year-old Aylan Kurdi, Geldof replied: "I look at it with profound shame and it's a monstrous betrayal of who we are and what we wish to be.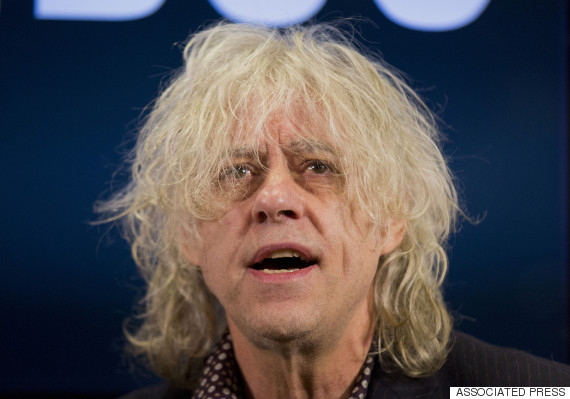 Sir Bob Geldof has offered to open his two homes to four refugee families
"Late last night I couldn't get my head around… and I said OK now... let's put our money where our mouth is.
"I'm prepared – I'm lucky, I've a place in Kent and a flat in London – me and Jeanne [partner] would be prepared to take three families immediately in our place in Kent and a family in our flat in London, immediately, and put them up until such time as they can get going and get a purchase on their future.
"I cannot stand what is happening. I cannot stand what it does to us."
Geldof's sentiments have been echoed by thousands of Brits who have signed a pledge volunteering to help resettle Syrian refugees amidst calls to the government to take in more numbers.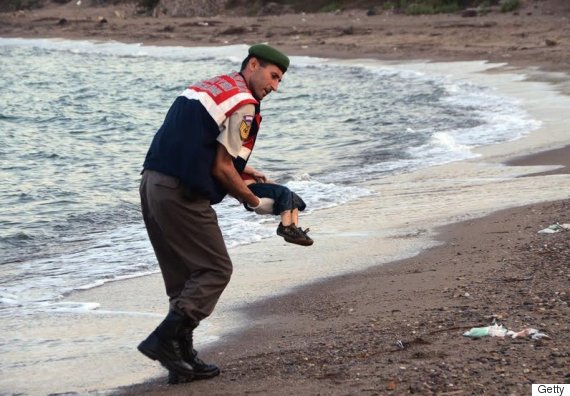 A Turkish gendarmerie soldier moves the body of Syrian-Kurdish refugee Aylan Kurdi from a Bodrum beach on Wednesday after the boat he was traveling on capsized
Britain has resettled just 216 people fleeing the war in Syria since March 2014 – not enough to fill a Tube train. Around 5,000 refugees have entered the country since civil war broke out.
As of Friday the Avaaz petition to provide A Safe Haven For Syrians had amassed 3,878 volunteers including signatories offering their spare bedrooms, translation and cooking skills.
On the same day Cameron promised Britain will "act with its head and its heart" and take thousands more Syrian asylum seekers from refugee camps, and to end the "bloodbath" that has engulfed the country.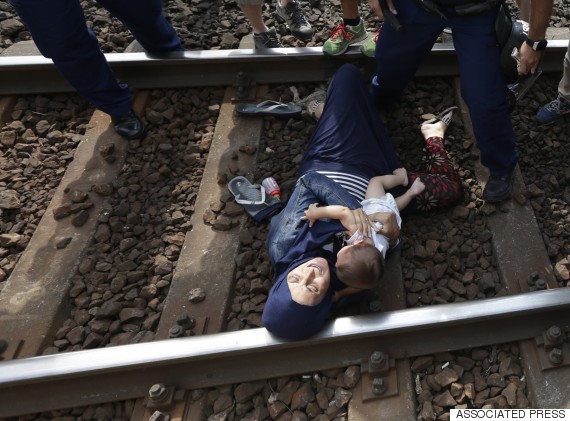 A migrant lies on train tracks with a baby as she is detained in Bicske, Hungary, on Thursday
Speaking at an EU summit in Portugal, the Prime Minister said: "Given the scale of the crisis and the suffering of the people, today I can announce that we will do more – providing resettlement for thousands more Syrian refugees."
Sir Bob, who masterminded the infamous Live Aid and Band Aid charity concerts, continued: "We are in a moment, currently now, a moment that will be discussed and impacted upon in 300 years time, a fundamental shift in the way the world has worked for the last, say, 600 years.
"Power has been sucked out of the West and moved East. Technology, once it met money, was multiplied by human greed, collapsed the world economy. If there's a new economy there needs to be a new politics. There isn't. And it's the failure of that new politics that has led to this fucking disgrace, this absolute sickening disgrace.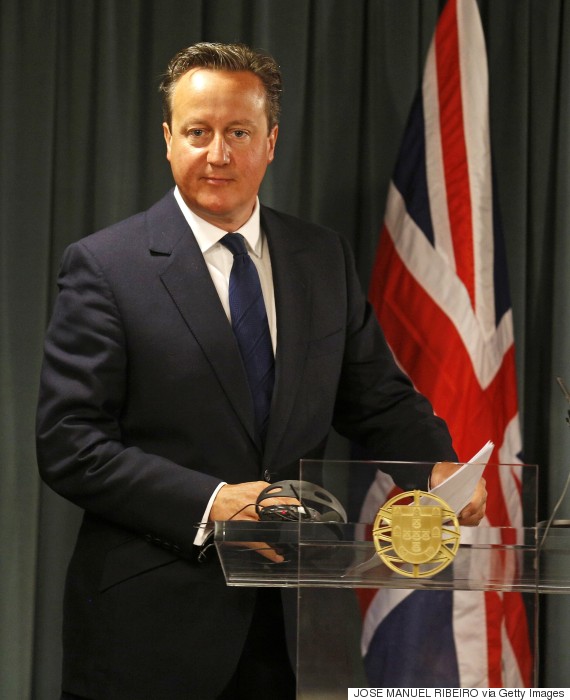 David Cameron - pictured on Friday in Portugal - has vowed Britain 'will do more' for Syrian refugees
"I've known and you've known and everyone has known that the bollocks we talk about our values are complete nonsense.
"Once it comes home to roost we deny those values, we betray ourselves. Those values are correct and it happens time and time and time again.
"We are better than this, we genuinely are."
SEE ALSO:
An online petition calling on the UK government to accept more refugees topped the 100,000 signature threshold needed to force a debate in Parliament following a massive surge in support earlier this week.
About 100 people a minute were signing up to the Government e-petition on Thursday, fuelled by the picture of Aylan's waterlogged body on a Bodrum beach. By Friday the figure was at 365,000 signatures.
Geldof continued: "Of course I understand the economics and the politics – alright, alright! I do understand when Cameron says the root cause of this must be addressed – yes it must!
"But we are in a period of fundamental shift.
"When people are poor they move. I am an economic migrant, Britain accepted me. Let me get on with it. I couldn't do it in Ireland which made me very bitter about Ireland but made me eternally grateful to the British people for saying 'get on with it dude'. And I did.
"This is happening again except it's people fleeing war not famine and economic hardship. That will increase as the environment decays.
"The environment makes people move from one area of resource to another.
"All of this is happening now. We must have the politics and the humanity to deal with it. It makes me sick and a concert won't do it."
You can listen to the entire interview here.