Since then, he's run a campaign using Hispanics as a scapegoat for America's ills, notably ejecting the country's most famous Hispanic news anchor from a press conference in Iowa last month –- an unsubtle metaphor for the treatment "illegals" can expect under a Trump presidency.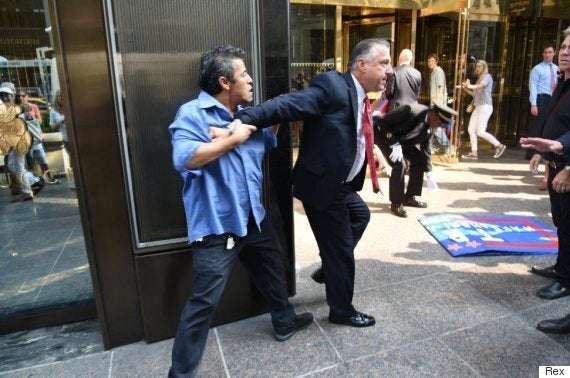 Galicia being held by one of Trump's guards following a scuffle
On Thursday the businessman's security guard, the same responsible for "deporting" Jorge Ramos in August, provided another visual clue as to what could be in store should Donald take the White House.
During his pledge-signing sideshow in New York, a group of protesters gathered outside the Trump Tower to denounce the Republican candidate's stance on immigration. They held a big sign twisting Trump's campaign slogan to, "Make American Racist Again." Some even donned the white robes of the KKK.
After Trump's henchman grabbed the sign, Efrain Galacia, a 50-year-old immigrant from Mexico, pursued the guard only to be punched in the face, then restrained by a second guard. "They pushed me around," Galicia told the New York Post. "We brought all our banners. We know the law. We know we can protest along the sidewalk."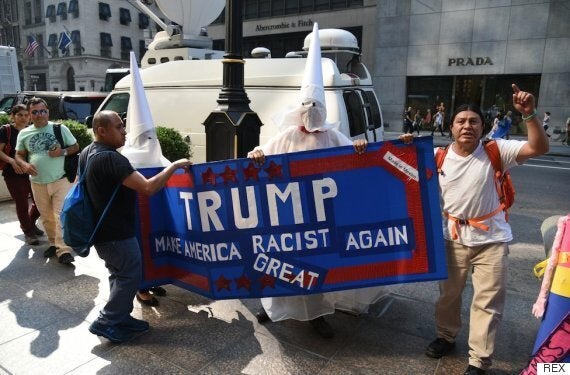 The protesters held a sign undercutting Trump's campaign message
And though Trump may be top of national Republican polls, this has been achieved by whipping up anti-immigrant sentiment, costing him the Latino vote. And as the last two presidential elections have shown, you can't win the White House without it.
Popular in the Community