Islamic State militants have destroyed three ancient tower tombs in the central city of Palmyra, a Syrian government official has said.
Tower tombs, built on high grounds, are a particular feature of the Roman-era ancient caravan city.
Maamoun Abdulkarim, the head of the Antiquities and Museums Department in Damascus, said on Friday that the militants had destroyed the tombs, including the Elahbel tower that dates back to the 103 AD, 10 days earlier.
Abdulkarim said his information was based on witness accounts and satellite images provided by the Boston-based American Schools of Oriental Research. The destruction comes after IS last month destroyed the ancient Baalshamin Temple in Palmyra, having earlier beheaded local archaeologist Khaled al-Asaad.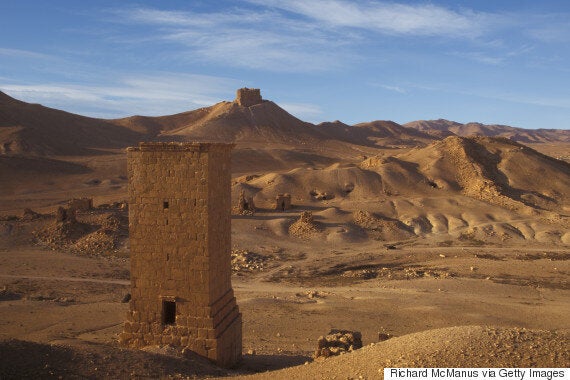 The Islamic State has destroyed three ancient tower tombs in the Syrian city of Palmyra in recent days, and are said to have blown up seven since the end of June
In a report issued Thursday, the ASOR Syrian Heritage initiative said IS had destroyed seven tower tombs since the end of June in two phases. The last round of destruction occurred between August 27 and Wednesday, and included an attack on the Tower of Elahbel, the most prominent example of Palmyra's distinct funerary monuments. Earlier, the Tomb of Iamliku and that of Atenaten was destroyed.
"Collectively, the damage to these tombs is not confined to a single area within the Valley of the Tombs, but instead it is distributed throughout various locations, leaving some towers destroyed and others still standing," the report said, showing a sequence of satellite imagery with the sites before and after the damage. "The reasoning for this differentiation is unknown."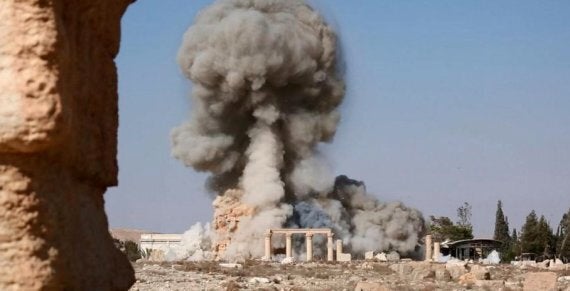 An image released by IS shows an explosion at the Baalshamin Temple in Palmyra
The militants claim ancient relics and sites of worship promote idolatry. They have already destroyed more modern-day Islamic cemeteries and shrines in the city.
The militants had already destroyed on Sunday the two-millennia-old temple of Bel in the city, which was confirmed by UN satellite images. The report said the temple of Bel was severely damaged with only the front gateway to the inner sanctuary still standing. The temple's colonnades were said to be still standing.