The Prime Minister has dodged suggestions his wife Samantha, a Save the Children ambassador, informed his U-turn over the UK accepting more Syrian refugees.
David Cameron acknowledged "as a father" he had been "moved" by images of dying children fleeing the conflict after this morning announcing the UK would be "providing resettlement for thousands more Syrian refugees".
His wife, Samantha, has urged her husband in the past to do more to help ease the humanitarian disaster caused by the Syrian civil war, and commentators today suggested she heavily informed his shift in position.
Am told that Samantha Cameron was huge influence on shift in the government's refugee policy http://t.co/HdjVwn1E5J

— Tim Montgomerie ن (@montie) September 4, 2015
Samantha Cameron is an Ambassador for @savechildrenuk (http://t.co/Jw9W1buAOj) and has visited Syrian refugee camps http://t.co/jGCHohy2vg

— Tim Montgomerie ن (@montie) September 4, 2015
Mrs Cameron is an ambassador for Save the Children, and in 2013 visited children traumatised by the war in a refugee camp in Lebanon. Samantha Cameron at a refugee settlement in Lebanon in 2013
At a press conference in Madrid this afternoon, where the Prime Minister also announced an extra £100 million in aid for Syria, he was questioned by the BBC's James Landale about her role.
Mr Cameron responded: "As a father and as a human being you can't help be moved by those terrible pictures. See that picture of that poor child on that beach in Turkey, those pictures will remain with all of us for a very long time.
"The question you have to ask not just as a father but as a Prime Minister is what are the actions we can really take."
He said it was "really important" to take displaced families from Syrian refugee camps to "send out the message" the "perilous journey" from the Turkish coast to the UK "put your lives and your families lives at risk".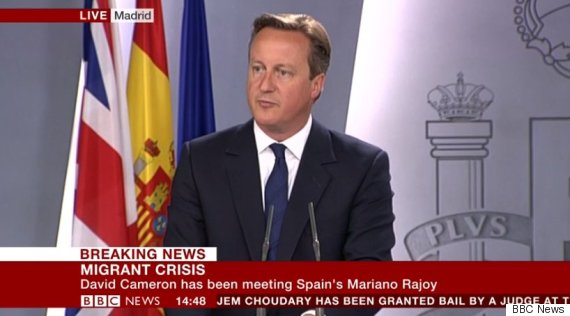 "As a father and as a human being you can't help be moved by those terrible pictures."
Mr Cameron also refused to be drawn on how many Syrian refugees the the UK would be accepting a spokesman for the UN Refugee Agency said Britain had offered to take 4,000 of the 11m people in refugee camps in the region.
A government source cautioned against the figure since the deal was still be thrashed out, though insiders have been cool on the suggestion tens of thousands could be granted asylum.
The Prime Minister said "bringing the crisis to an end" was more important than total numbers, renewing his claim that tackling Isil and the Assad regime was root of the crisis.
Syria In Numbers: Statistics On Conflict Show How Far We Are From Tackling Refugee Crisis
Asked whether the latest intervention would presage UK air attacks on Syria, Mr Cameron made clear that would requires "genuine consensus on both sides". The Labour Party under Jeremy Corbyn, the leadership frontrunner, would block the move.
Yvette Cooper, Labour's Shadow Home Secretary, welcomed the expansion of the Vulnerable Persons Relocation scheme but said the British Government should also offer to help some of the refugees who have already fled into Europe.
He said: "It is the strength of feeling from the British public, faith groups, community organisations and councils across the country about helping refugees that has rightly made the Government change its mind. But we need to keep the pressure up as David Cameron must still do more to respond to this humanitarian crisis."
She warned 50,000 people arrived in Greece in a month and "the authorities are struggling to respond".
"Hundreds of thousands of refugees are already risking their lives trekking across Europe, boarding boats to cross the Mediterranean, or putting themselves in the hands of human traffickers out of desperation," she said. "Britain must do its bit to help those refugees too and not turn our backs."
SEE ALSO: