The five things you need to know on Friday September 4, 2015...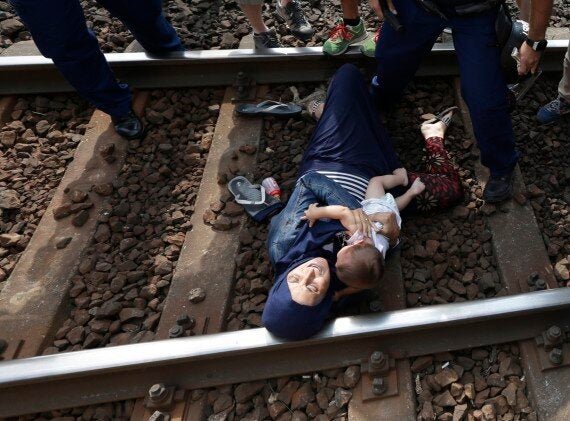 I noted in the WaughZone yesterday that despite David Cameron's apparently robust language on Wednesday, the PM had left himself wriggle room on refugees with his line that he'd keep the issue 'under review'. Never forget that No.10 wants this government to be seen as a 'One Nation' government. When George Osborne emerged to attack the criminal traffickers responsible for Aylan Kurdi's death, he too had a line about reviewing refugee numbers. And last night the PM finally emerged to strengthen up the hints, saying "Britain is a moral nation and we will fulfil our moral responsibilities."
We could get the details of the plan as early as today, though officials have been working hard to hammer out numbers, it's unlikely there will be anything like the 25,000 demanded by David Blunkett on Newsnight.
Some in Government admit they've looked flat-footed on the crisis. Boris yesterday preempted the PM when he said: "We should take people fleeing persecution and those plainly in fear for their lives. London will, of course, face up to its moral responsibilities." The Times reveals that both Justine Greening and Nicky Morgan pushed behind the scenes for more action. "You know you're in the wrong place when the debate is being led by the Labour leadership candidates," a Conservative source told the paper.
The UN's high commissioner for refugees Antonio Guterres this morning stepped up the pressure by calling for a new plan to relocate 200,000 refugees. ""No country can do it alone, and no country can refuse to do its part."
But as he embarks on his talks in Spain and Portugal today, Cameron is not changing his central argument that the fundamental issue is to sort the problem at source - and that the UK has spent huge sums on camps in neighbouring countries. As the Guardian points out, Downing Street fears a potentially 'fickle' outburst of compassion could obscure deeper concerns among the public about immigration. There is a strong feeling among some in Whitehall that Germany has made itself a magnet by announcing a new pull factor of its own: the willingness to help 800,000 refugees. Last night it emerged that even Bayern Munich is setting up a 'training camp' for refugees in the city. (The Indy has a story of British football fans demanding the right to fly banners backing refugees here).
Many Tories are wary of the wider issue - not least given what's happening in Hungary - and Sir Malcolm Rifkind was on the Today programme saying he was worried about the message any big increase in refugees would send: 'If you are in Turkey already, you are out of danger.'
But Abdullah Kurdi, the father of little Aylan, his brother Galip and husband of wife Rehan, rightly gets much coverage today. He's told our sister site HuffPost Arabi: "I wish I could transfer my breath to them, to breathe life into their bodies again. We spent a whole hour holding onto the boat. My children were still alive. The first one died because of the raging waves. I had to leave him to save my second son, who also drowned. I turned around to find that their mother had drowned as well. Gathering the costs for fleeing wasn't easy, and I couldn't secure the price of the life jackets."
From Milifandom to Mili-I'm-Done in just a few months. The Times has an exclusive that Ed Miliband is set to quit frontline politics by ruling out a return to the Shadow Cabinet. The former leader will focus instead on climate change and inequality issues. What's most significant about this is it kills off the idea that Miliband could have been installed as Jeremy Corbyn's Shadow Foreign Secretary. This is said to be one option being canvassed by Team Corbyn and could have reassured MPs about Trident and Nato membership.
But Miliband has told friends he wants a break after five years in the top job. Maybe he's also listened to sage counsel from friends who were nervous of the way he was regularly turning up to Portcullis House this summer, appearing as if he'd not lost the election. Some MPs felt Miliband behaved as if he had 'lost the election but not the argument' and was hanging around 'like a bad smell'.
Meanwhile, Miliband may still take comfort from a new study of the election Britain Votes 2015 (produced by academics and the Hansard Society). It has found that nearly half of overall election campaign broadcasting was dedicated to the 'horserace' – who is winning – at the expense of policy dissection.
Jeremy Corbyn (what would we hacks write about if he didn't exist?) dominated the final leadership TV hustings on SkyNews last night, winning a huge online vote (then again he started with a big lead) and lots of applause from the audience. Foreign policy featured heavily and both the Guardian and Sun pick up on his line that he couldn't envisage the UK's armed forces fighting overseas under his premiership. Asked by Liz Kendall whether there were any circumstances in which he would deploy military forces, Corbyn said: "Any? I am sure there are some. But I can't think of them at the moment."
And although he won applause for his line that he doesn't buy The Sun, Corbyn did confirm its story that he wanted to reduce the global reach of our armed forces. "Can we afford to have global reach as a country of 65 million people on the north-west coast of Europe?" he asked (note that Corbyn's cerebral approach often means him answering questions by asking his own questions).
Lord Hutton was scathing on the Today prog: "I think that's completely irresponsible. If you are not prepared to deploy armed forces...I don't think you should be the leader of a principle political party in the UK."
Corbyn's line on the EU again sounded like he's flirting with Brexit, declaring the EU was "increasingly operating like a free market across Europe". Andy Burnham won his best applause for attacking Michael Gove.
Liz Kendall wins marks for both candour and humour for her line: ""We allowed ourselves to be portrayed as only interested in winning," says Kendall, "I've proved that's not the case!"
Yvette Cooper really got going at the end of the debate with a passionate attack on Corbyn's plans to 'print money' for spending. Cooper has had a good few days, not least given her bold refugee plan, and the bookies slashed her odds to make her second favourite yesterday. Watch out later today for a HuffPost interview with the Shadow Home Secretary.
BECAUSE YOU'VE READ THIS FAR...
Watch this video of a young Syrian refugee sum up his plight in 45 seconds
Nigel Farage launches his own 'Out' campaign for the EU referendum today. And he's used his Telegraph column to cheekily invite Jeremy Corbyn to join him.
But the Telegraph points to a Survation poll for British Future showing just why the mainstream 'Out' campaign may want to keep him at arms length. It says that key undecided voters are deterred by Farage's anti-immigrant rhetoric and his plans to put migrants at the heart of his campaign. 51 per cent of voters thought Ukip talked too much about immigration at the election, and 10 per cent too little. Some 58 per cent think Ukip risk bringing prejudice into immigration debates,
But the other good line in the Tel is the FCO's plea with Tory Eurosceptics thinking of rebelling next week over the purdah rules. David Lidington and whip John Penrose have told backbenchers that voting for Labour's amendment could restrict what MPs say, while leaving ministers and officials free to act. Eurosceptics weren't that impressed, saying it was another 'bullying' attempt. Next week could be fun if Labour digs in on Amendment 35.
Meanwhile, John Whittingdale's warning shot to the BBC was published by DCMS yesterday. He told Trust chairman Rona Fairhead that any 'distorted' coverage of the referendum would influence the poll, and said the Corporation's coverage of Europe had not been 'fautless' in the past.
As the FT reported yesterday, today is the Chancellor's deadline for cuts plans from Whitehall departments ahead of his spending review. Although Philip Hammond this
summer ridiculed 40% cuts modelling demanded by the Treasury ("Past experience would suggest that initial pitching by the Treasury should be regarded as aspirational and a ranging shot"), several ministers are nervous.
Chuka Umunna and Vince Cable have decided to team up for a joint article for the Indy in which they warn that the big reductions at BIS could wreck all hopes of an 'industrial strategy' for the UK, allowing the market to let rip instead. One of Cable's big victories in the Coalition was using his department to implement a strategy.
Local councils, who have born the brunt more than most and are set to receive even more pain, have responded to the deadline with demands of their own. The Local Government Association says that Osborne should devolved £60bn more over the next five years.
The Sun has a nice exclusive on the way ministers and officials are using post-it notes to cover up bungles and internal rows. Missives on yellow squares of paper are being increasingly used to get round FoI rules, allowing them to be ripped off and destroyed unlike letters or emails. David Davis is appalled by the 'disgraceful abuse' of office.
Stateside, things are going well for the Democrats. Hillary Clinton looks like she won't face a Biden challenge and Obama has got his numbers for his Iran plan. John Kerry has given an interview to HuffPost on the historic deal, watch out for it later today.
The BBC says Hinckley Point C's new nuclear power plant is being delayed due to financial issues. Not good news for ministers who worry about our energy gap.
If you're reading this on the web, sign-up HERE to get the WaughZone delivered to your inbox.
Got something you want to share? Please send any stories/tips/quotes/pix/plugs/gossip to Paul Waugh (paul.waugh@huffingtonpost.com), Ned Simons (ned.simons@huffingtonpost.com), Graeme Demianyk (graeme.demianyk@huffingtonpost.com) and Owen Bennett (owen.bennett@huffingtonpost.com)