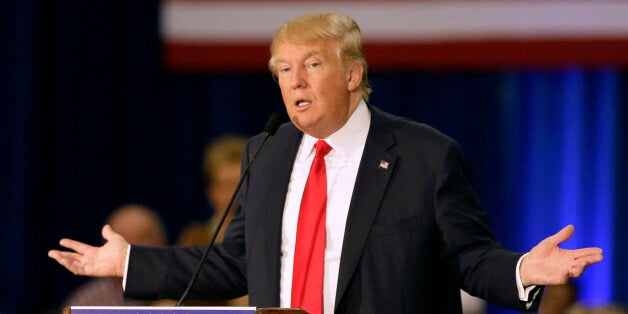 The prospect of Donald Trump becoming the Republican candidate for US President is 'horrifying', Labour leadership contender Yvette Cooper has declared.
Breaking from the long-standing convention that British politicians don't comment on American Presidential races - or vice versa - Ms Cooper said that Trump's comments underlined the level of sexism Hillary Clinton faced in the States.
Cooper told HuffPost UK: "It was just outrageous. All the things I can think about sexism in British politics, it's just nothing on Donald Trump, it's quite unbelieveable really."
Cooper, who has led the way in urging the UK to take more refugees from Syria and lambasted Hungary for its treatment of them, also hit out at Trump's comments about Mexican migrants.
Asked how she viewed the prospect of Trump winning the Republican nomination for President, she replied: "Absolutely appalling and really quite horrifying. It shows partly the nature of the divided politics in the States, but what it mainly says is there's a section of the Republican party that is just so appalling."
Just days after the world expressed its shock at the death of three-year-old Aylan Kurdi on a beach in Turkey, Cooper today revealed that more than 40 councils had responded to her appeal for sanctuary for Syrian refugees.
Cooper, who once worked as a young activist on Bill Clinton's campaign in 1992, also heaped praise on Hillary Clinton.
Clinton 'massively' blazed a trail for other women in politics, she said.
"Because she's done it in her own way. She's not done it either by saying she was going to just behave like the men nor has she played a traditional women's role, she's very much herself all the way through.
"She's done things her way and taken flak for doing so at different stages along the way. And has showed great endurance. Politics can very often be about short term fashion and she hasn't given into that at all."
Ms Cooper is behind Jeremy Corbyn in the race for Labour leader, but believes she can still beat him as well as Andy Burnham and Liz Kendall.
The ballot closes at noon on Thursday September 10, with the winner announced on Saturday September 12.
In a wide-ranging interview, Ms Cooper also revealed her first political awakening was triggered by Nigel Lawson's cuts to her great aunt's pension and talked frankly about how important her family life was to her.
She also said it was time for a female Dr Who.
Cooper revealed that she had to resort to fast food when husband Ed Balls was on holiday with their three children this summer.
"Of course Ed does all the cooking. And so when they were away, I was completely stuffed," she said.
"Takeaways, the fish and chip shop, one night I went to McDonald's at ten o'clock at night. A few ready meals I could just about manage."