The BBC will offer staff and content to local newspapers and allow rival shows to be seen on its iPlayer in plans for a major shake-up of the corporation which will also include its first radio broadcasts to North Korea.
Director General Lord Hall will give the first of a four-part response to the Government's review of its royal charter, which runs out at the end of next year, in a speech outlining a "fundamental reshaping of how the BBC operates", the Press Association has reported.
It comes as Culture Secretary John Whittingdale consults on possible replacements for the licence fee and considers whether the broadcaster should be "all things to all people" or have a more "precisely targeted" mission.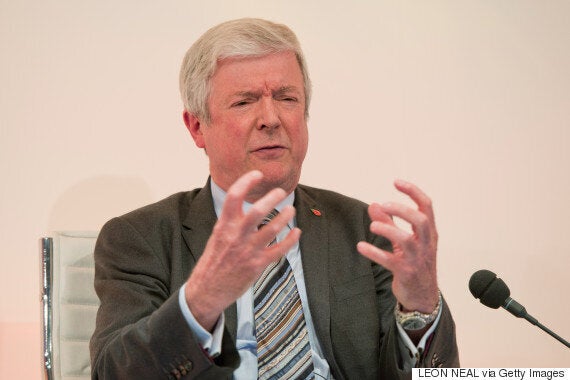 The BBC's Lord Hall is set to unveil plans to offer staff and content to local newspapers and to broadcast a news show to North Korea
Chancellor George Osborne has also criticised the BBC website for "becoming a bit more imperial in its ambitions" in a hint at possible moves to scale it back to protect newspapers.
Among his proposals for a new "Open BBC", Lord Hall will reveal plans for a multi-million pound partnership with local news groups to provide a network of 100 public service reporters to generate and provide content.
The BBC reports that it will also create a hub for data journalism, in partnership with a leading university, "that would make BBC expertise in data journalism available to local newsgroups".
A new on-demand children's service called iPlay and an "ideas service" linking BBC programmes with material from partners including the British Museum, the Tate and the Royal Shakespeare Company, will also be announced.
The broadcaster says the plans include either a satellite TV service for Russian speakers or a bigger digital presence on platforms such as YouTube and its Russian equivalent, Rutube, and a daily news programme for North Korea, broadcast on short wave radio.
The BBC Arabic Service is to offer more regional content, with increased coverage of North Africa and the Middle East and a news service for Ethiopia and Eritrea on medium wave and short wave.
Lord Hall will say: "Let me be clear, an Open BBC is a million miles away from an expansionist ambition. Indeed it is the polar opposite.
"It comes from the belief that the BBC must do even more for Britain as a whole. That's the direction of travel I favour – to make public service broadcasting better, by modernising it.
"A BBC that continues to help Britain be a creative powerhouse, recognised the world over. A BBC that's creating jobs - in one of the industries that's a great British success story. We will strengthen the things people love about the BBC while making them fit for the new age."
A BBC source told PA: "The growth of online news has had a big impact on the local news industry. While the BBC is not the cause of that, we do believe local news is essential for a strong democracy and we want to be part of the solution.
"This is an unprecedented offer that would put millions into a genuinely exciting local journalism partnership."
The Sunday Telegraph reported that the corporation is considering the future of BBC Four as it looks for funds to develop new dramas to compete with online streaming services like Netflix and Amazon.
But the BBC insisted Lord Hall will make a "positive case" for the corporation's future and will not announce any closures in today's speech at the Science Museum in central London.
The corporation will give three further responses over the coming weeks on plans for production and BBC Worldwide; the Government's consultation on the future of the BBC; and finally on efficiency and money-saving.
Related