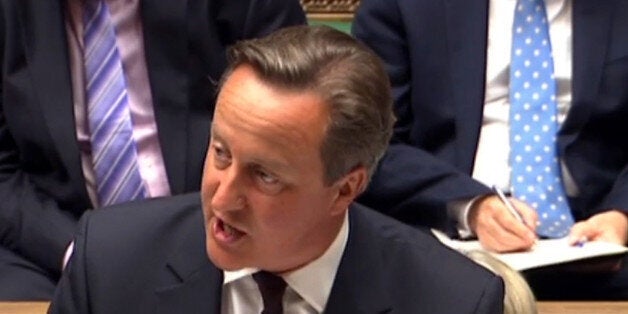 David Cameron suffered a "humiliating defeat" tonight as Tory eurosceptics joined with Labour to shoot down a key part of the Government's EU Referendum Bill.
Led by Tory veteran Bernard Jenkin, David Cameron saw his plan to water down the restrictions on Government activity in the run up to the referendum – a period known as purdah – defeated in the Commons.
This now means a snap referendum is out of the question.
After the Government's defeat, Labour's Shadow Foreign Secretary Hilary Benn said: "This is a humiliating defeat for David Cameron, with members from all sides of the House supporting Labour's approach to purdah, which ensures fairness in the conduct of the referendum campaign while permitting normal government business to take place.
"The Government should never have rushed through its flawed plans to play fast and loose with the rules on the referendum."
The Government seemed to have avoided the possibility of defeat when Europe Minister David Lidington accepted an amendment tabled by Mr Jenkin which ruled out a snap vote.
It initially seemed the Tory Eurosceptic backbenchers, including former Cabinet Minister Owen Paterson, were appeased by the u-turn and would not vote down the so-called purdah-lite amendment as an act of compromise.
However, speaking in the Commons during the evening debate, Mr Jenkin called on the Government to withdraw purdah-lite, and instead embrace a Labour amendment which would place greater restrictions on Government activity ahead of the referendum.
Despite a defeat appearing likely, ministers decided to press ahead with a vote on their amendment and at 9.20pm the Commons chamber filled with MPs from all sides to vote on the matter.
The Prime Minister himself turned out to vote, appearing without a tie as he strode through the Chamber.
There was little reaction from MPs as the Government's defeat was announced, and even mild confusion on the Labour benches when their amendment was subsequently adopted without a vote.
Ukip MP Douglas Carswell called the result "a great day for parliament."
He said: "MPs are making sure the Government does the right thing and can't fix the referendum."
The Clacton MP added: "The department running this is the mandarates in the Foreign Office. The Foreign Office machine are terrified of the implications of a vote to leave the EU.
"Philip Hammond bears the marks of the last civil servant to sit on him. He's led the Government to this defeat."