Ex-rugby player Gareth Thomas has opened up about the "toughest thing he's ever done" in a new Guinness advert.
Thomas, the first openly gay professional rugby union player, describes the time he turned to his sport when his demons were tearing him apart.
In his monologue, the 41-year-old also discusses the dark times he faced before he came out and revealed his past loneliness.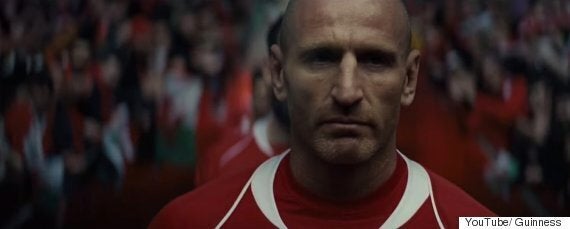 Gareth Thomas has relieved the "scariest moment of his life" - when he came out as gay
He explains: "Every impact, every rib cracked, every bone broken... That was nothing compared to the demons tearing me apart in my darkest hour.
"I turned to my teammates, telling them I was gay, that was the toughest thing I've ever done. They were there for me."
The advert poignantly tells the story of how the former Wales captain's greatest fear wasn't the opposition he faced on the pitch, but the fear of rejection from everything he had known, because of his sexuality.
The video is part of the new campaign by Guinness: "Stories of strength of character and integrity from the world of rugby."
A spokesperson from the company stated: "Rather than focus on physical attributes of what makes a rugby player, this campaign looks to inner qualities like courage, empathy and resilience."
Thomas came out as gay in December 2009 and has previously been voted as the most influential LGBT person in the UK by the Independent On Sunday Pink List.
In similarly historical scenes, in August, Keegan Hirst became the first rugby league professional to come out as gay.