Shocking CCTV video footage has been released of an attack on a 16-year-old girl on an east London street.
Tasneem Kabir was punched in the head and suffered a smashed lip and broken teeth as she headed to college in Plaistow, Newham.
Michael Ayoade, 34, pleaded guilty to the brutal crime which took place in 2012 and was jailed for four years.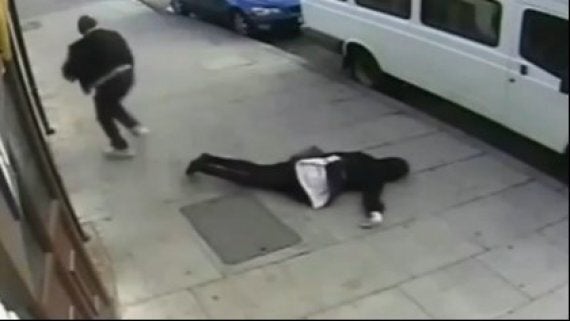 Ayoade fled the scene after the violent confrontation
Kabir was wearing a hijab when she was knocked out, which sits as one example of Islamaphobic attacks in London.
The footage comes as Scotland Yard confirmed that the total number of Islamaphobic attacks is on the rise and has almost doubled in the past 12 months, from 406 to 800.
Tell MAMA, an organisation that monitors attacks against Muslims, told the BBC that about 60% of victims were female.
Fiyaz Mughal, director Tell MAMA, said: "We realised that at a street level Muslim women who were visible, and wore the Hijab or the headscarf, were suffering more targeted abuse.
"We also realised quite early on that women who wear Niqab, the face veil, suffered more aggressive incidents - there was something about the face veil that in a way brought out the worst in the perpetrator."
Three London boroughs saw a decrease in Islamophobic attacks. Sutton, Harrow and Enfield had between 22% and 23% fewer attacks on Muslims in the past year compared to the previous 12 months.
Richmond saw an 800% increase in hate crimes against Muslims, increasing from 1 to 9 reported incidents.
Victims similar to Kabir spoke out in BBC documentary, Inside Out: Behind The Veil, which broadcast on the 7th September.
Related