Sporty sisters Maria and Valery Bystritskii may look innocent but few would guess what they like to do in their spare time.
The pair, aged just 10 and 11, enjoy gymnastics, painting and skiing like normal kids, but can also punch, grapple and submit opponents using mixed-martial arts manoeuvres.
Both are students at Bunny's Gym in Winchester, Tennessee, where children as young as four are taught mixed martial arts or MMA, the sport popularised by the Ultimate Fighting Championship.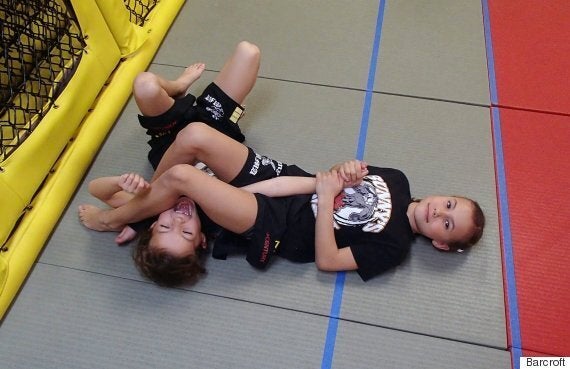 Their parents, Dr Albert Bystritskii, 47, and his wife Elena Koutkina, 44, who have multiple black belts including karate and tae-kwon-do between them, are more than happy for them to train.
Maria, 11, said: "Fighting boys in the cage is kind of weird. They are a little aggressive and get mad if we make them submit."
Valery, 10 added: "Being in the cage is a little nerve-wracking because you don't know how experienced your opponent will be - but you forget that once you get into it."
Dr Bystritskii, an emergency room physician, said: "I think it's important they learn how to protect themselves. You never know when you're going to need something in your life - and it's better to know it and never need it than need it and not know it."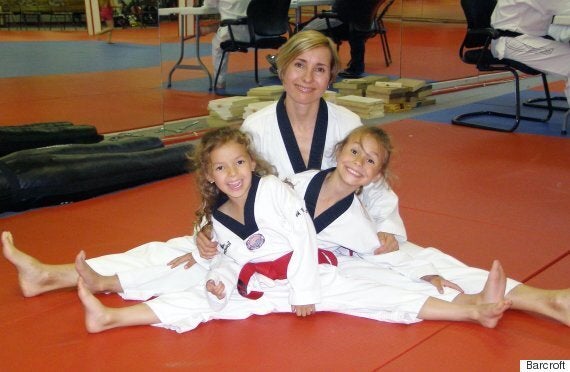 The doctor added: "They are both talented fighters. Maria is calmer and plays defence and likes to let the other person make a mistake and then take advantage.
"Valery is a little faster and a bit more aggressive. She likes to attack and not wait for the other person to come in."
In American, competitions for children are banned, but it is legal to train children.
However, some critics have described the sport as "human cock-fighting" and has led to MMA events being banned in New York State, even for adults.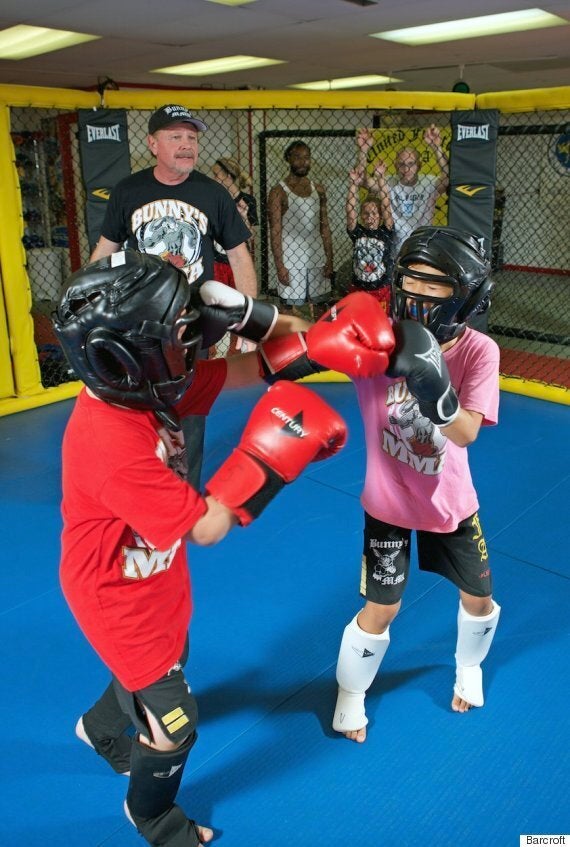 Despite the controversy, owner of the Bunny's Gym and martial arts expert Bunny Hawkersmith, 59, is quick to defend its merits.
He said: "I've been teaching children for many years and I've never had a child hurt in MMA.
"Some critics say it's like cock fighting but these are people who don't understand the sport and have never trained in it.
"We build children's self-esteem and we build up their confidence. A lot of children are shy and they're scared and they feel like they don't know what to do if a bully or something had attacked them.
"But after a few sessions here you see their faces glowing, their chests puffed out and you see the new confidence as they walk around."
Bunny said all training sessions are closely monitored.
If a hold is secured and locked without pressure, it counts as a win. They are also not allowed to use strike moves without wearing protective equipment like helmets and gloves.
The club also has a strict policy that MMA techniques are never used outside of the gym and any child caught using them is first given a warning or dismissed if caught a second time.
The owner said: "Football has pee-wee football, soccer has pee-wee soccer, basketball has pee-wee basketball. Now we have pee-wee MMA and I believe that the MMA stars of tomorrow will be the kids who are the pee-wee stars of today."