Harry Styles could be about to make his big screen acting debut next year, according to reports.
READ MORE:
The One Direction singer is said to be on the top of producers' wishlists to make a cameo appearance in the forthcoming film adaptation of 'Absolutely Fabulous', which begins filming next month.
An insider tells The Sun: "Jennifer [Saunders] has told friends she wants Harry to be part of the movie. She's got some great cameos in the bag already, but wants to give the film a young, hipster edge."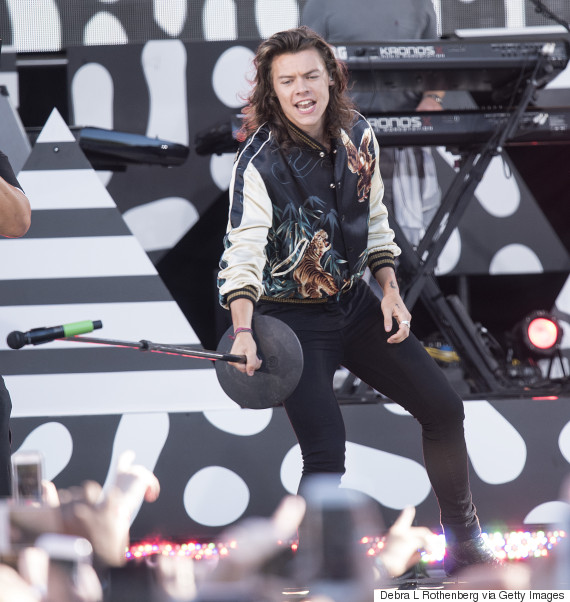 Harry Styles
It's even been said he could play himself, as a potential love interest for Joanna Lumley's notorious 'Ab Fab' character, Patsy Stone.
The source adds: "If she can find a way to work him into the script, then Patsy could have a new bit of totty to chase."
The addition of Harry to the star-studded cast follows Jennifer Saunders' confirmation that Kate Moss would also be appearing.
Jennifer told The Mirror last month: "I can confirm that Kate does have a part in the forthcoming movie.
"It's not yet decided whether she'll have a speaking part or not, but she'll definitely be in it.
"She's a big fan of the show and we're pals, so - aside from the fact she's the definitive model - it was a no-brainer."
Get that bolly on ice... Eddie and Patsy are back!
It has been previously said that Harry hopes to turn his attention to acting in the future, particularly given that 1D are about to take a year-long break.
Cara Delevingne has also been tipped to be putting in an appearance, alongside Lulu and Emma Bunton.
LIKE US ON FACEBOOK | FOLLOW US ON TWITTER