Australia's Prime Minister Tony Abbott has been caught joking about the effects of climate change with Peter Dutton, the country's Immigration Minister.
Dutton made remarks about rising sea levels in the Pacific, before a community roundtable at Parliament house in Canberra on the resettlement of Syrian refugees.
Abbott - who has just returned from climate change talks with Pacific Island leaders in Port Moresby - apparently didn't realise the private conservation was being overheard.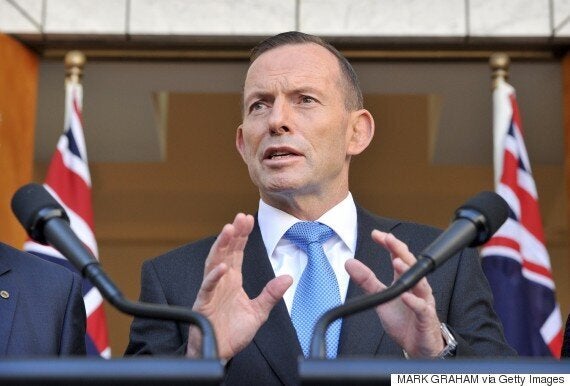 Tony Abbott awkwardly laughed at the joke made by Peter Dutton
Video footage recorded the moment when Dutton joked with Abbott: "It's like Cape York time" in an apparent reference to the stereotypical view that there is a fluid approach to punctuality in remote and Indigenous communities.
Abbott referred to his recent visit and replied: "We had a bit of that up in Port Moresby" to which Dutton said: "Time doesn't mean anything when you're about to be, you know, have water lapping at your door."
The Prime Minister was heard chuckling before Social Services Minister Scott Morrison cautioned: "There's a boom up there", in reference to the microphone hanging just above Dutton's head.
In reaction to Dutton's remarks and Abbott's response, Koreti Tiumalu, Pacific coordinator of environmental group 350.org said: "We request that minister Dutton resigns and that Tony Abbott issues an official apology to all Pacific islanders.
We also hope that Australia will offer proper support for and recognition of the impacts that your climate inaction is having upon our culture and our livelihoods."
Related