An Austrian volunteer has secretly recorded footage of refugees being fed "like animals in a pen" inside Hungary's Roszke camp, which is situated on the borders of Serbia.
Around 100 people can be seen scrambling for food - inside a caged area - thrown at them by police officers clad in hygiene masks.
The video, posted on the YouTube channel of Austrian politician Alexander Spritzendorfer, highlights signs of Hungary's inability to handle the volume of refugees seeking sanctuary in the country.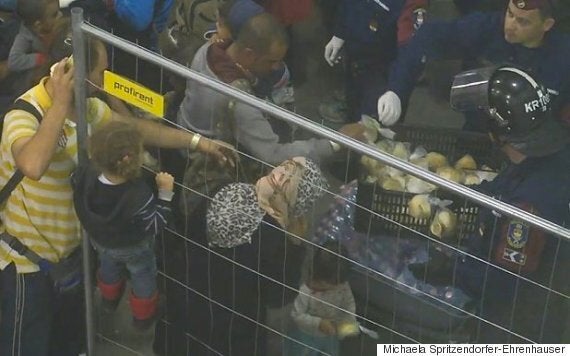 The scenes were chaotic as people frantically tried to catch the bread
Laws which could see refugees jailed for crossing into its borders are due to come into force on 15 September.
"It was like animals being fed in a pen, like Guantanamo in Europe" Alexander Spritzendorfer stated, referring to the notorious prison camp where the US is accused of torturing inmates.
Michaela Spritzendorfer, who reportedly filmed the footage, described the scenes: "There were maybe 100 people trying to catch these plastic bags with sausages...
"They were not able to organise a camp and treat them like human beings."
Police have since responded to the incident, launching an "emergency enquiry" into the matter.
In correspondence with Reuters, they described it as a fact-finding investigation, without elaborating.
According to Government spokesman Zoltan Kovacs, the footage showed a detention centre where people spend only a few hours in an "optimal case" but can also remain there for up to two days in a procedure sanctioned by the European Union.
"I can see policemen who have been performing their duties for months, trying to take care of 23,000 migrants arriving continuously day by day while there is no co-operation whatsoever on their part," Kovacs said in an emailed response to Reuters.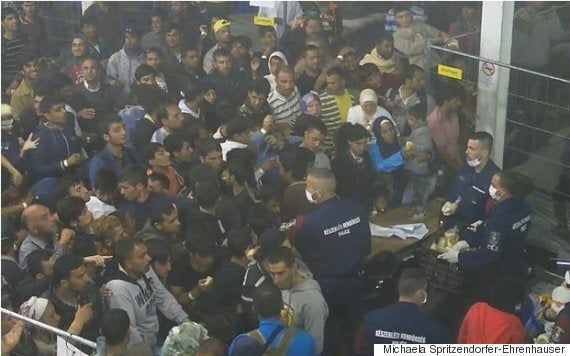 The situation in Hungary has seen refugees stranded at the border, some who have waited days to be registered, while conditions at makeshift frontier camps are basic.
In August, in an attempt to curb the migration into Hungary of refugees fleeing war Syria and Iraq, the country's right-wing Government built of a razor-wire barrier along its 175-kilometre border with Serbia.
Popular in the Community