WARNING: This report contains some images readers may find distressing.
In the background a McDonald's-style Happy Meal Board states: "Two children's menus for the price of one."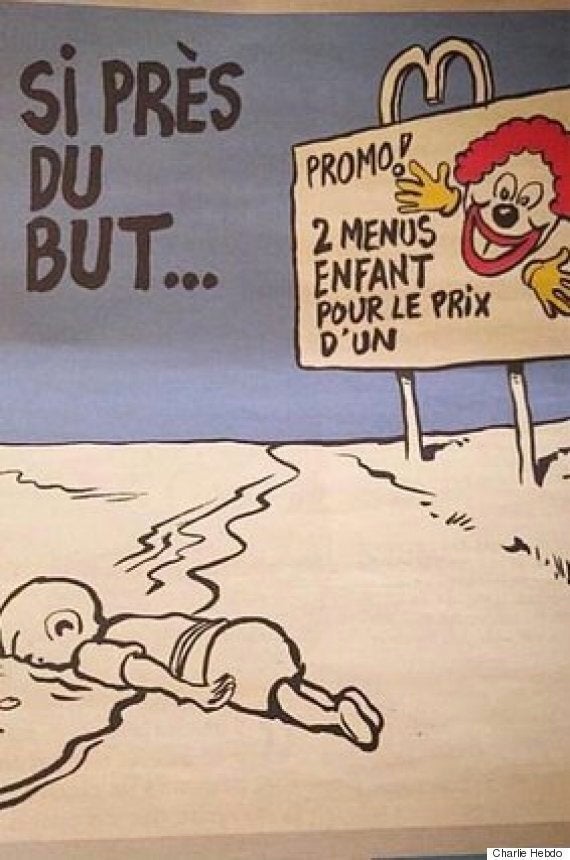 Three-year-old Aylan drowned along with his brother and mother when the boat they were travelling in from the Turkish town of Bodrum to the Greek island of Kos capsized.
The family fled after Islamic State militants advanced upon their home town of Kobane.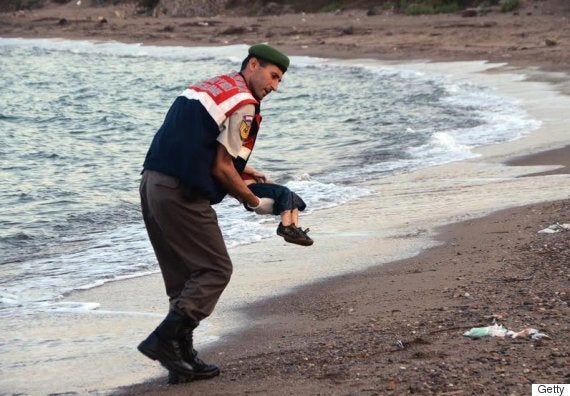 A Turkish gendarmerie soldier moves the body of Aylan Kurdi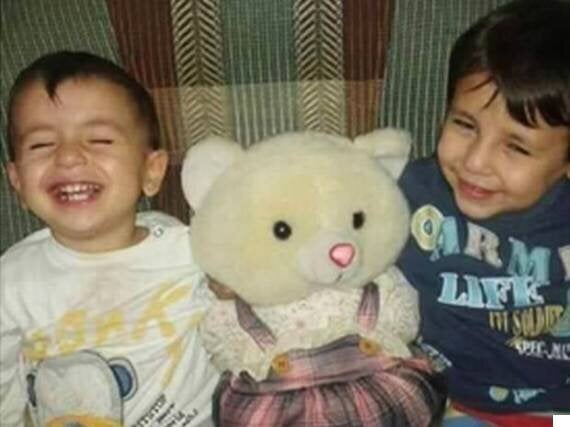 Aylan (left) and his older brother Galip (right), who also perished in the sea
Another cartoon said to be from the same edition of the magazine is entitled The Proof that Europe is Christian and features a man believed to be Jesus standing on the surface of the ocean while a child's legs's (presumably meant to be Aylan's) protrude from the water.
It says: "Christians walk on water… Muslim kids sink."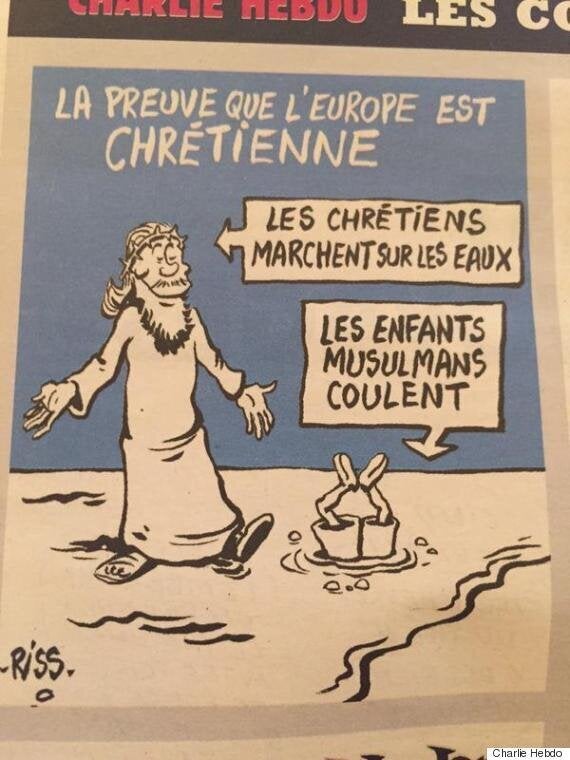 The cartoons have been met with a mixed response.
Indian channel Scoop Whoop wrote: "This isn't the Charlie Hebdo we identified and stood in solidarity with earlier this year. Je ne suis pas Charlie (I'm not Charlie)."
Barrister Peter Herbert, who is Chair of the Society of Black Lawyers and former vice chair of the Metropolitan Police Authority, tweeted: "Charlie Hebdo is a purely racist, xenophobic and ideologically bankrupt publication that represents the moral decay of France.
"The Society of Black Lawyers will consider reporting this as incitement to hate crime and persecution before the International Criminal Court."
But some commenters say the cartoons are not mocking the dead child and are instead using the tragedy to ridicule Europe for not doing enough to prevent it.
The attacks ended when security forces killed both Charlie Hebdo gunmen —brothers Cherif and Said Kouachi — and an accomplice — Amedy Coulibaly — who killed a policewoman and later four hostages at a kosher grocery.
After the massacre the slogan Je Suis Charlie was adopted by supporters of freedom of speech and freedom of the press and trended worldwide in a gesture of support for the magazine.
The weekly publication has a history of drawing outrage across the Muslim world with crude cartoons of Islam's holiest figure, resulting in the firebombing of its offices in 2011.
A year later, the magazine published more Muhammad drawings amid an uproar over an anti-Muslim film. The cartoons depicted Muhammad naked and in demeaning or pornographic poses. As outrage grew, the French government defended free speech even as it rebuked Charlie Hebdo for fanning tensions.