The wife of a British jihadist killed in a US drone attack has reportedly pledged her undying love for her late husband and said she is "proud he was killed by the biggest enemy of Allah".
Sally Jones, 45, fled the UK to be with Junaid Hussain in Syria after meeting him online. Hussain, who was originally from Birmingham, became the Islamic State's top cyber hack after joining them in 2013.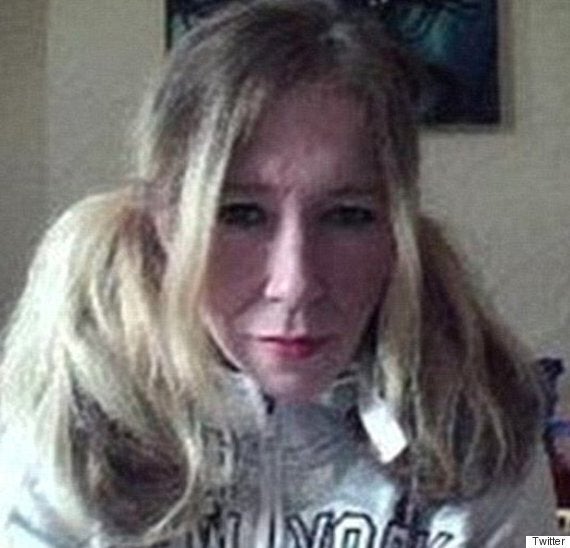 Sally Jones, the wife of killed British jihadist Junaid Hussain, has paid tribute to her late husband on Twitter
In June this year Hussain was linked with an IS plot to attack an Armed Forces Day parade in south London. It was reported that the plan to explode a pressure cooker bomb - killing soldiers and bystanders on the route - failed after Hussain unwittingly recruited an undercover investigator from The Sun to carry it out. Both Hussain and Jones were also later identified in a Sky News report which claimed IS was training Brits for lone wolf attacks.
Overnight on Monday Jones, calling herself Umm Hussain Britaniya, sent a series of tweets in her late husband's memory, before her account was suspended.
The mother-of-two wrote: "I'm proud my husband was killed by the biggest enemy of Allah, may Allah be pleased with him, and I will never love anyone but him."
Another tweet appeared to reference the IS Jihadis' belief that their fighters become martyrs and are richly rewarded in heaven. It read: "The crusaders think they win when they kill us. They don't we win."
Although Jones' account was only active for a few hours, IS supporters began following and retweeting her posts. One, also thought to be a jihadi widow, made direct contact with Jones and was responded to.
Jones wrote to her: "Yes uhkty [sister] may Allah accept your husband too into the highest ranks of jannah [heaven] and jzk [may Allah reward you] for being here for me."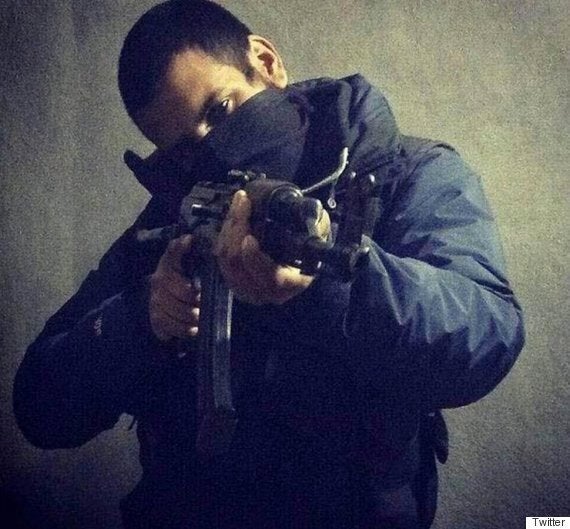 Junaid Hussain was killed in a US drone attack last month
Jones, a former punk band guitarist and beneficiary, is believed to have left her home in Chatham, Kent, along with her 10-year-old son, in 2013, after converting to the Muslim faith.
After Jones and Hussain started exchanging messages online, Jones appeared to have become radicalised and later claimed Britain and America were 'terrorist' nations.
It is unknown whether the couple travelled to Syria together, but Jones at least is thought to have sneaked into IS-held territory at the end of 2013. Reports recently suggested she has returned to the UK and was spotted in Birmingham last month.
In June 2012, Hussain, then aged 18, was jailed for six months after making prank calls to a counter-terror hotline.
He admitted making the nuisance calls and publishing former prime minister Tony Blair's address book in June the previous year.
Hussain was a member of TeaMpOisoN (TeamPoison), a group which had claimed responsibility for more than 1,400 offences where personal and private information has been illegally extracted from victims in the UK and around the world.
TeamPoison also claimed to be behind online hacking attacks involving foreign politicians, major international businesses, an international humanitarian agency and foreign law enforcement.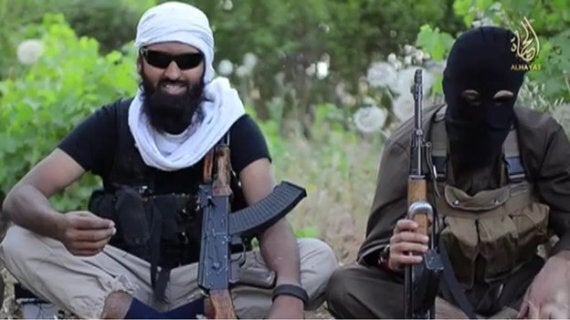 Ruhul Amin, left, from Aberdeen was killed in airstrikes along with Cardiff-born Reyaad Khan
Hussain's death was also later confirmed by David Cameron during a Commons statement in which he announced the death of two other British nationals following targeted RAF drone strikes.
The Prime Minister revealed that Cardiff-born militant Reyaad Khan, 21, was killed by an RAF drone strike alongside another British fighter Ruhul Amin in Raqqa on August 21.
Three days later the US drone killed Hussain.