The group condemned Tuesday's killing of the bull, named Rompesuelas, as "gratuitous animal cruelty".
The footage emerges as data reveals that a majority of Spanish people opposes the event.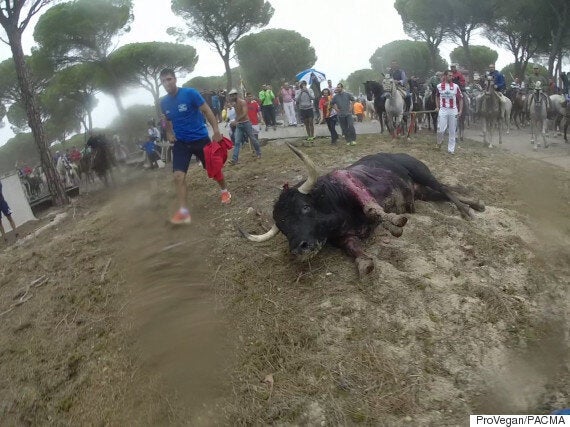 The injured bull lays dying on the floor
HSI reports that Rompesuelas was chased out of town to a nearby meadow by men on horseback wielding spears, and tormented and goaded by the gathering crowds for 20 minutes.
The injured animal was killed when a spike was driven through his neck.
Research commissioned by HSI shows that 74% of Spanish citizens aged between 16 and 65 years old oppose the Toro de la Vega bull fiesta.
Claire Bass, HSI/UK Executive Director, said: "In common with the vast majority of Spanish citizens, we are sickened by the gratuitous animal cruelty that took place at today's Toro de la Vega fiesta.
"Rompe Suelas the bull endured a terrifying and protracted ordeal, for the entertainment of the crowd, before being killed.
"It's time for Spanish politicians to wake up to 21st century ethical values and end this barbaric, archaic and perverse form of 'entertainment' for good."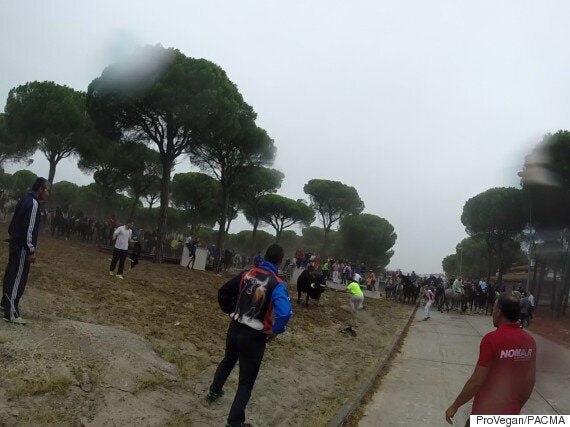 Members of the crowd surround the animal, stabbing him with spears
After Rompesuelas was killed, the result of the competition to kill him was declared void as officials questioned whether three of the rules, governing where the bull can be killed and how many people can deliver the final blow, were broken, HSI reports.
The city council said it is contemplating administrative sanctions.
The Toro de la Vega is just one example of the thousands of fiestas taking place in Spain every year.
Although many of the fiestas are partly or wholly funded by public subsidies, HSI's poll shows that 71% of Spanish citizens do not think public funds should be used to support bull fiestas.
A demonstration in central Madrid on Saturday organised by Spanish group PACMA, saw tens of thousands of Spanish citizens march to register their strong opposition to this cruel event.
Spain's controversial bloodsport of bullfighting has been the focus of increased scrutiny as a summer plagued by human - as well as animal - deaths attracted international attention.