Two Russian pranksters said they impersonated Vladimir Putin in a call to Sir Elton John, leading the singer to believe he was discussing gay rights with the president.
On Wednesday, television show hosts Vladimir Krasnov and Alexei Stolyarov, known as "Vova and Lexus", told Russian tabloid Komsomolskaya Pravda that they were the ones who actually called Sir Elton.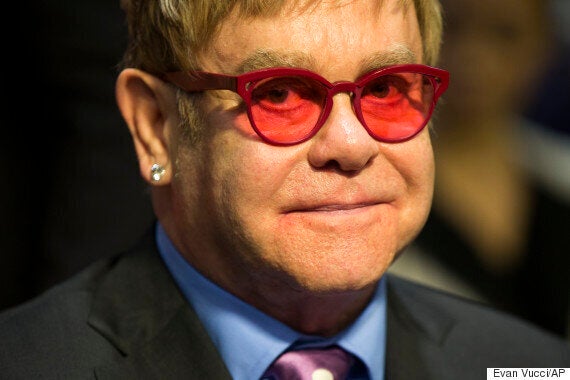 The two pranksters reportedly said that Sir Elton, who was not aware that he was being duped, had told them their call was the "most wonderful" he had received.
"Alexei has great English, so he introduced himself as Dmitry Peskov (Mr Putin's spokesman) and translated our conversation. I was Vladimir Putin," The Telegraph quotes Mr Krasnov as telling Russian tabloid Komsomolskaya Pravda.
"We think that Putin is unlikely to want at least in the near future to meet with him and to call, but it turned out that Elton John was waiting for that call, so immediately believed in the reality of a conversation with the people that we represent. He said: 'Thank you. You made my day. This day, and the conversation was the most wonderful and beautiful in my life'."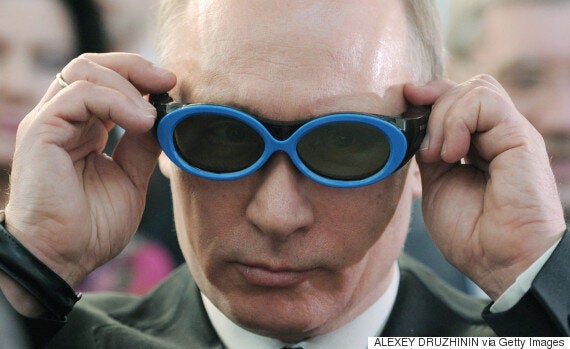 Russian President Vladimir Putin denied calling Sir Elton John
The pair has prank-called many Russian and Ukrainian celebrities and politicians in the past.
On Monday, Sir Elton posted a photograph of Putin on Instagram, with a caption that read: "Thank-you to President Vladimir Putin for reaching out and speaking via telephone with me today.
"I look to forward to meeting with you face-to-face to discuss LGBT equality in Russia."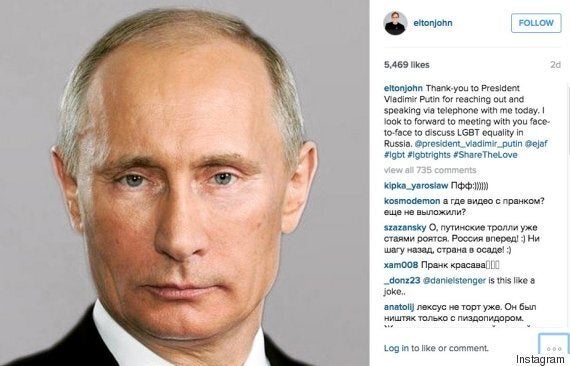 Sir Elton John thanked the Russian president on Instagram for 'reaching out' to him
Putin's spokesman, Dmitry Peskov, told Russian news agencies on Tuesday that the president had not spoken with Sir Elton, The Press Association reported.
Peskov said: "Putin did not have a conversation with Elton John, and, what's more, we have not received any requests from him for a meeting.
"The president has always been open to discuss human rights issues.
"The president, I'm sure, will be ready to meet with Elton John, too, if there is such a request."
Sir Elton has openly condemned Putin's attitude to gay rights in Russia.
Sir Elton criticised Putin for telling gay people to "just leave kids alone, please", ahead of last year's Winter Olympic Games.
Russia's anti-LGBT "propaganda" law, which was passed in June 2013, has been widely condemned as it was seen as effectively legalising discrimination against LGBT people.