Alex Salmond has said it was "infantile" for Jeremy Corbyn not to sing the national anthem at the Battle of Britain memorial service, signalling a progressive alliance between the SNP and Labour is unlikely under his leadership.
The former Scotland First Minister made the comment to television channel STV's political editor, Harry Smith.
Senior Labour figures lined up to join the criticism of Mr Corbyn, an avowed republican, for not singing God Save The Queen.
Mr Salmond, now an MP in Westminster, has made it his life's work to set Scotland free from the United Kingdom, but has said he wanted an independent country to keep the Queen as the head of state.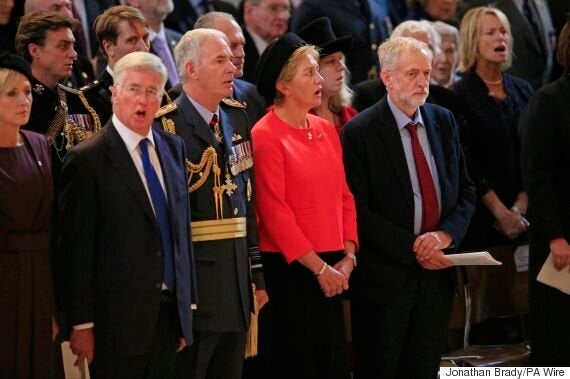 Jeremy Corbyn appeared to remain silent during the anthem
Some thought that the anti-austerity message pushed both by Mr Corbyn and the Scottish Nationalists would mean it could forge closer ties to tackle the Conservative government.
The new Labour leader later said he would sing at future events, and explained to the BBC last night he was thinking of his family and his silence was a mark of "respect".
In an interview with Sky News, Mr Corbyn said: "I was at the Battle of Britain memorial yesterday. I was there out of respect for that amazing moment in British history.
"I was also thinking about my family, my mum and dad, who were there at that time in London and worked as air raid wardens during the Blitz.
"I was thinking about that. It was a respectful ceremony and I stood in respect throughout it. I am going to be at many events and I will take part fully in those events, I don't see a problem about this."
He added: "I will show respect in the proper way at all future events ... the proper way is to take a full part in them and I will take a full part."