Japanese politicians have been filmed apparently brawling in parliament over tension stemming from a new security bill.
The scuffle, uncommon for Japan's normally sedate chamber, saw members of the opposition and the ruling coalition pushed and shoved as a committee member was surrounded.
The dispute, over a debate about pacifism, saw members of Parliament caught on video footage tussling over bill papers and pushing and shoving each other.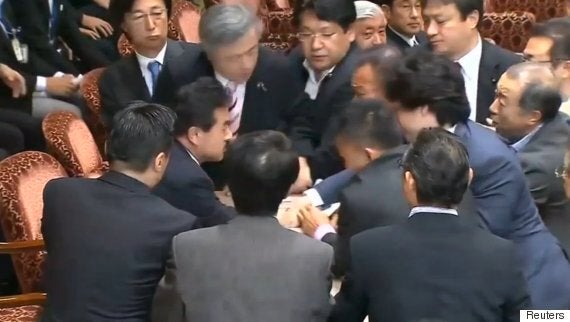 The members of Parliament scuffled in disagreement
The heated scenes come after a proposed security bill was repeatedly delayed by a committee vote on Wednesday night, with opposition MP's blocking doorways of parliament in protest.
In the same evening thirteen people were reportedly arrested for "interfering with officers" during a protest of an estimated 13,000 people outside parliament in Tokyo.
The bill under dispute could see Japanese soldiers deployed overseas for the first time since the end of the Second World War.
Under the proposed changes, the Japanese military would have the option of going into battle to protect allies such as the United States even if there was no direct threat to Japan or its people.
The much disputed bill that flared chaos in parliament, didn't seem to stir the Prime Minister, Shinzo Abe, who had his eyes closed during the incident.
According to The Guardian Abe is keen to get the bill passed before he embarks on a three-day holiday next week.
In July the legislation sailed through the lower house, where the ruling party coalition has a two-thirds majority.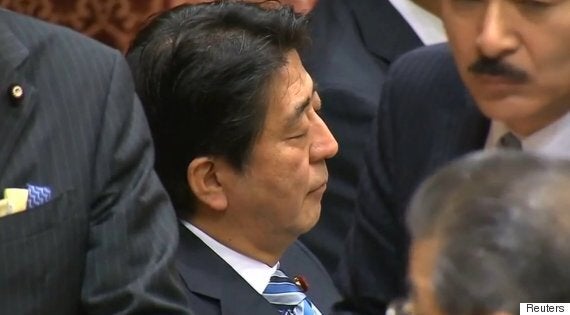 The Prime Minister sat silently through the ordeal with his eyes closed
The bill, which is causing a divide in opinion across the country, is expected to be voted on by the committee this week.
Although if the delay to the vote stretches to more than 60 days, parliamentary rules say it can be returned to the lower house and voted into law.
The result could have unprecedented consequences for the ruling party and Abe, as some opinion polls are suggesting that most voters oppose them.