The Black Dot Campaign encourages abuse victims to draw a small black dot on the palm of their hand as a way of seeking help. This is then recognised by people outside of the victim's abusive situation who can offer assistance.
Since we wrote about the campaign last week, it has slowly gathered momentum and has reached an astounding number of people - 4.5 million in total.
However since it went viral a few very valid points have been made, which we feel obliged to share.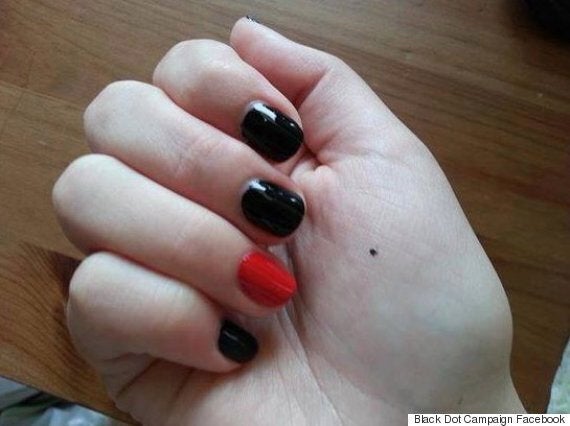 Things you should know about Black Dot
Firstly, it's important to note that while it's been branded as a "campaign", it's not an official campaign recognised by domestic violence charities and organisations.
It was launched by an anonymous domestic violence survivor who says she experienced physical, emotional and sexual abuse. She told HuffPost UK Lifestyle that her experiences inspired her to launch the campaign, "as so many people suffer in silence because they cannot ask for help".
"This is an idea, thinking outside of the box, trying to open up the world's eyes and ears to what is going on in terms of abuse," she writes on Facebook.
While it might not be an officially recognised campaign, it still has the power to help people. And it has.
Here are just some of the people who have been helped, in one way or another, by the campaign: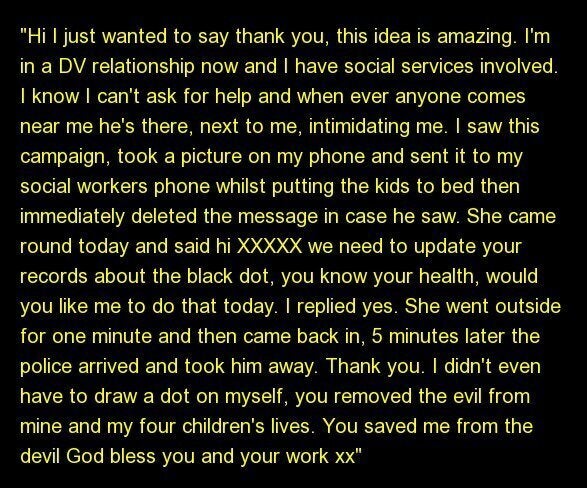 Black Dot: Stories From Survivors Of Domestic Abuse
Secondly, people have questioned whether professional bodies know about Black Dot, as the page originally said that "agencies, family, friends, community centres, doctors, hospitals can recognise this person needs help but can not ask for it".
In a statement on Facebook, the page's founder writes: "Professional bodies have not been advised or trained in the Black Dot, what it symbolises and what it means."
But that's not to say that it hasn't reached these people.
"I'm a DV First Responder and while yes of course abusers can read this we still can't stop advocating for victims and finding new ways to get information to them," wrote Debra Signorelli on the post.
"They are always at risk and leaving is the most dangerous time, but their lives matter and there is life after abuse.
"When you are in it, you feel hopeless. Let's never quiet the victims. Let's always work together to keep giving them a voice."
Another valid point, which hundreds have flagged, is that as the campaign becomes more widely known, there is a high risk that perpetrators of abuse will also know about it.
Zoe Hammond writes: "How does this help? Won't the perpetrators of domestic violence also know what the black dot means - so if they see their victim with this on their hand won't that potentially make the situation worse?"
But the founder of Black Dot has an answer to this too.
"This isn't the solution that will help everyone, if anything it should help people realise what abuse is, how it affects people and how to access help," she writes.
"SAFETY MUST ALWAYS COME FIRST. If you see a black dot or are approached by someone for help, if safe to do so take them to safety and get them in contact with the relevant agency. Intervention and support should only be done by professionals."
Polly Neate, chief executive of Women's Aid, tells HuffPost UK Lifestyle that it is useful to have a range of options available for victims who want to communicate their abuse.
"It can be very difficult and dangerous for victims of domestic abuse to speak out about what is happening to them, due to fear of what the perpetrator will do, and fear of not being believed," says Neate.
"The Black Dot could help some victims to communicate their abuse and it is useful to have a range of options because circumstances vary greatly."
Survivor of domestic abuse, Simonne Butler, says that the campaign would be most effective for trying to communicate to people when the abuser was present, but in a private situation - for example a doctor's appointment.
"What I love about this is that this is a lady in England who has been through domestic abuse and she has come up with this and it's gone around the world. People are talking about this people are thinking about new ways to help people get out of situations.
"If we can change the culture to start think about helping people instead of blaming then then I think that's amazing."
There's no disputing there have been equal parts negativity and praise when it comes to the campaign.
But when it comes down it, we need to bare in mind that this is the brainchild of a brave woman who escaped abuse herself. Not a huge organisation with the input of experts at their disposal.
And yes, it might have its flaws - but doesn't everything?
The important thing is that it's given a voice to people who might not have found the courage to in the first place, it lets victims know that they're not alone and help is at hand, and most importantly, it has helped a handful of people find the strength they needed to escape.