Women talking about their abortions in an effort to counter a campaign to close state-funded abortion clinics in America have faced a barrage of abusive messages from pro life campaigners.
The campaign to defund clinics across the US "relies on the assumption that your abortion is to be whispered about," the founders of the #ShoutYourAbortion hashtag wrote on Twitter last week.
But pro life campaigners quickly took to the trend, using the hashtag to promote their anti-abortion cause.
Amelia Bonow and Lindy West helped start the trend, and West wrote about her experience at a PP clinic in New York, and has encouraged women to take to Twitter to share their stories as a powerful argument against the defunding of the service.
The suggestion of defunding Planned Parenthood has come about as the American Congress begins to negotiate the federal budget -- as a shutdown resulting from the failure to extend government financing looms.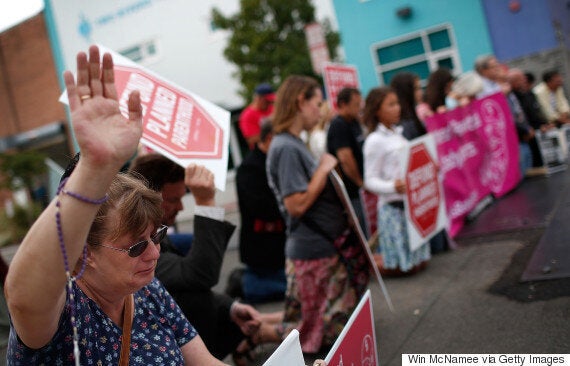 Right to Life advocate Linda Heilman (L) prays during a sit-in in front of a proposed Planned Parenthood location while demonstrating the group's opposition to congressional funding of Planned Parenthood on September 21
As part of these negotiations, Reuters reported that Representative Jim Jordan, who leads a group of the most conservative Republican members, said on Monday: "Our position is, we're not going to vote for something that allows money to continue to go to Planned Parenthood."
The #ShoutYourAbortion hashtag has trended worldwide ever since.
And women have braved a wave of criticism to share their stories.
Choice was a key theme for many of those tweeting on the hashtag.
There were supportive messages.
Some people disagree with the hashtag
But there's been a strong defence of the hashtag too.
But pro life campaigners have used it to promote their cause -- a warning that some messages are extreme and may cause distress to some readers