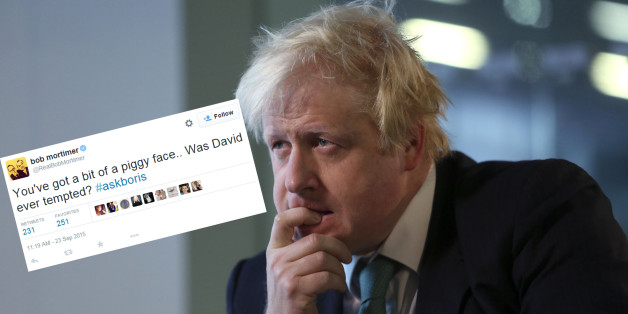 Bloomberg via Getty Images/Twitter
It's that time again, when the Mayor of London and MP for Uxbridge sits down to answer questions posted on Twitter with the #AskBoris hashtag.
And, in light of recent events, everyone was feeling a bit silly.
You've got a bit of a piggy face.. Was David ever tempted? #askboris

— bob mortimer (@RealBobMortimer) September 23, 2015
#AskBoris can you explain this....? pic.twitter.com/wJ7tZpjuPQ

— Unnamed Insider (@Unnamedinsider) September 23, 2015
#AskBoris Is it true that you're about to project the picture you took of Dave balls deep in a pigs head on a massive screen at Westminster?

— Ham Fisted (@fatherwoIand) September 23, 2015
After other allegations in the news this week, do you have anything you might want to share with us?

#AskBoris pic.twitter.com/qY4swPbYQA

— Amanda (@Pandamoanimum) September 23, 2015
@MayorofLondon is it true you were fond of wearing a pig mask at Uni?

September 23, 2015
Miss Piggy ..... Snog / Marry / Avoid ?

September 23, 2015
And everyone who couldn't think of an original pig joke just went with other ridiculous questions. Sadly none of them were answered.
#AskBoris If you could stop World War 2 by going back in time and bumming Hitler's dad to death, would you?

— Ken Shabby (@MrKenShabby) September 23, 2015
#AskBoris Is it true that you style your hair by farting into an empty crisp packet and then bursting it in front of your face?

— Chris (@ChribHibble) September 23, 2015
I'm £90m short this month. May I borrow your Telegraph column & get Gideon's number? #AskBoris

— L (729) (@MrsCupcake79) September 23, 2015
#AskBoris Please can we have a "Scream if you want to go faster" setting on the London Eye

— The King of Tonga (@thekingoftonga) September 23, 2015
If I eat myself will I be twice as big as I was or disappear completely? #AskBoris

— Anita Sarawak (@AnitaSarawak) September 23, 2015
Should manspreading be a criminal offence? #AskBoris pic.twitter.com/LqMIh2R9C1

— General Boles (@GeneralBoles) September 23, 2015
#AskBoris Is it true you've got a tyre swing in your office?

— Andy Dawson (@profanityswan) September 23, 2015
Would cats be better if they had six legs? #AskBoris

— Andy Parmo (@andyparmo) September 23, 2015
MORE TWITTER FUNNIES: