The sight of this kissing refugee couple made an amateur photographer take what must be one of most humanising photos of the migration crisis.
Istvan Zsiros, 30, a former IT worker who recently quit his job to focus on photography, went to the camp next to Keleti Railway Station in Budapest on the morning of August 30, saying he wanted to photograph refugees after reading so much in the press about them.
"Love is the only thing that transcends space and time," he told The Huffington Post UK.
He was at the camp for around 20 minutes, watching to see what shot he could take.
"This was the first time to take photos of refugees. Some kind of divination 'told' me to watch the refugees, and this heavenly help give me this lucky moment to take this image."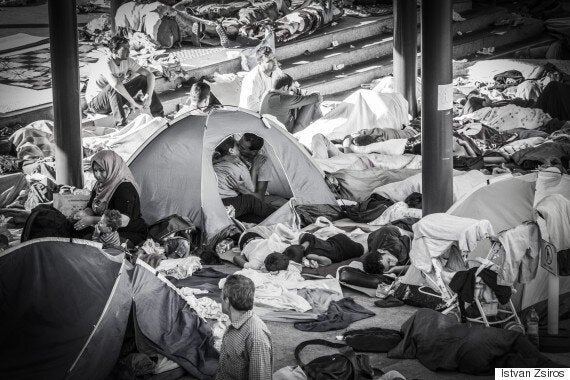 The kissing couple at the camp
He added: "The feeling (of) love and attention between the couple touched me. I think everybody needs love, and then I could see it."
The camp grew as thousands of migrants and refugees came through Hungary, trying move on to Austria and Germany where they were more likely to receive warm welcomes.
Hungary has been reluctant to welcome or host refugees. It has built a fence along the length of its border with Serbia to keep them out and police have used tear gas and water cannon to disperse them from the border.
Mr Zsoris added: "I'm not a journalist, so I haven't got any experience in it. Photography is my love/passion for 10 years. I love catching moments, which can touch the soul.
"I saw the couple, and it was very touching especially in that environment. So I took the shot."
The image circulated on social media after it was uploaded to a Facebook page hosting a competition. Two weeks later it shared by professional photographer Yannis Androulidakis, to whom it was briefly misattributed.
It was described as "beautiful" and showing the couple's love "amidst despair, hope".
When asked about his country's stance on refugees, Mr Zsoris said: "I think they try to do their best they can, but it's a very difficult and complex problem. I hope there will be solution for this situation worldwide."
It is not clear what became of the couple after the photo was taken.