Hungarian armed forces are reportedly heading towards its border with Croatia in military Humvees after parliament voted to deploy them to help repel refugees.
Pictures have emerged of a fleet of military vehicles rolling into action hours after the Hungarian parliament agreed to let the army use a range of non-lethal force, including rubber bullets, pyrotechnical devices, tear gas grenades or net guns on refugees. Soldiers can also fire their Kalashnikov rifles - but only in self-defence.
The army will also be able to check identification papers, arrest illegal border crossers and control the flow of traffic, The Telegraph reports.
Hungary lies in the path of the largest migration wave Europe has seen since the Second World War and its hardline approach has caused rifts across the EU. Its latest refugee offensive comes ahead of a scheduled meeting of EU interior minister on Tuesday aimed at finding some common ground in combating the crisis.
Viktor Orban, the prime minister who has outraged his neighbours by erecting a barbed wire fence, reportedly told parliament on Monday: "The migrants are not just banging on our door, they are breaking it down."
Istvan Simicsko, the defence minister, pledged that the use of force would not be disproportionate saying: "You truly cannot answer a slap with a rocket."
Ivica Dacic, the foreign minister of Serbia, which has seen 150,000 pass through to Hungary in recent months, is reported as saying his country was being "put behind another Iron Curtain".
The Telegraph quotes him as saying: "Only during wars have borders been closed like this, and the EU acts like this is happening on a different planet."
Vivienne Reding, a former EU commissioner and senior MEP, criticised the bill on Twitter.
The Hungarian government on Monday released full-paged advertisements in An Nahar, the Lebanese daily newspaper, warning of "the strongest possible action" against illegal border crossings.
Orban will on Tuesday seek to block a system of quotas drawn up by Jean-Claude Juncker to redistribute 120,000 migrants from Italy and Greece around the EU.
Hungary's participation in the scheme, which would have seen 54,000 refugees reallocated to elsewhere in the union, has already been removed. Orban successfully argued it would have been an "invitation" to economic migrants.
Brussels is now said to be unsure whether to divide Hungary's allocation between Italy and Greece or to create a "reserve" for evacuations that can be used to ease pressure on countries such as Croatia.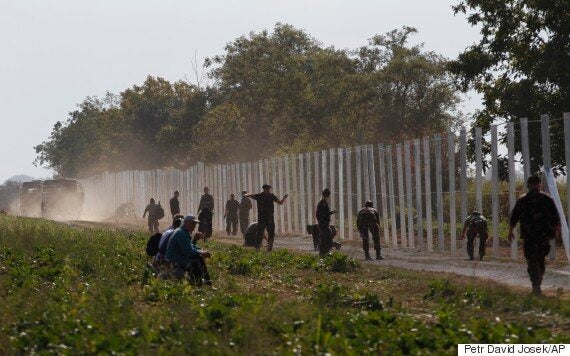 Hungarian soldiers work on a fence that is being built at the border with Croatia, near the village of Beremend, Hungary, on Tuesday
Milan Chovanec, the Czech interior minister, has claimed it would be illegal under EU law to force refugees on member states.
The Telegraph reports that one option would be to force the plan through using a qualified majority vote, allowing some dissenting member states to be overruled. The paper says the move could open up lasting fissures in the European Union.
German chancellor Angela Merkel has spoken out against doing so. On Monday she is quoted as saying: "It's worth every effort to do everything to be able to decide by consensus among the 28 member states, rather than by qualified majority, on important questions such as the distribution of refugees."
The talks come as the refugee crisis shows no signs of abating with some 994 people said to have been rescued at sea by the Greek coastguard over the weekend. A wooden boat carrying 70 people was also said to have ran aground off Rhodes.
A further 23,000 people arrived in Austria from Hungary over the weekend, with 5,000 in camps outside Vienna.
Related