There are fears over a serial sex attacker in Cardiff after three sex assaults on women near the capital's university within five days.
Police say it's too early to know whether the same person is responsible, but admit there are similarities between the attacks "in terms of the locations, times and nature of the assaults".
The most recent assault happened at Gorsedd Gardens in the Civic Centre at around 4.30am on Thursday and involved a 19-year-old woman. Police have released few details about the attack but have cordoned off the gardens and are scheduled to hold a press conference later today.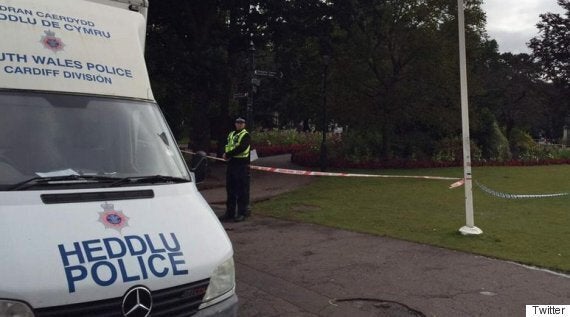 Police are investigating three sex attacks in Cardiff within five days
The crime scene is just a few yards from where a similar attack took place on Sunday - and little over half a mile from the scene of the second attack on Tuesday morning.
Sunday's assault occurred around 3am and involved a 20-year-old woman being sexually assaulted near Cardiff University's main building, which is also in the vicinity of the Cardiff Civic Centre.
The second attack involved a woman, also 20, being assaulted at a property on Cathays Terrace. The incident was reported to police about 11.30am on Tuesday.
South Wales Police Superintendent Andy Valentine said that, while a man had been arrested, inquiries were still at an early stage.
He said: "While there are similarities in terms of the locations, times and nature of the offences, it is too early to say whether the same man is responsible.
"We are working extremely hard to identify who is responsible and the victims are being supported by specially trained officers."
Detectives have urged people walking around at night to do so in pairs or groups.
Labour Cardiff Central MP Jo Stevens told the Mirror: "I understand why people don't want to have to change their habits and behaviour when they're out at night, but I urge women, and particularly new students in the city, to just make sure you don't travel home alone."
She added: "There's a taxi scheme run by Cardiff University where you can book through the university where you don't have to have the money on you at the time.
"Make sure you walk home with someone else or get in a taxi. Be extremely vigilant while the police are trying to find out who has committed these assaults."
Cardiff councillor Chris Weaver, who represents the Cathays area of the city, said the attacks are very worrying.
He told Wales Online: "I spoke to police after the previous assault and they assured me they are taking this extremely seriously," he said.
"Obviously with this being the third incident in five days it's very worrying for people in the area."
"People need to take the advice of police and the university seriously and make sure they take care of themselves.
"I would urge anyone with any information to contact police urgently."
Cardiff University has sent its security team to student residences to urge students to be vigilant.
"Police officers are increasing their presence in the area with additional high-visibility patrols to offer reassurance.
"Police are also reminding people when walking around at night to do so in pairs or groups and stick to well-lit areas."
The spokesperson continued: "As part of our ongoing commitment to creating a safe environment for our students, our security team has been visiting student residences to discuss personal safety," the spokesman continued.
"We're in consultation with our Students' Union and are discussing appropriate measures to help ensure our students' safety.
"We offer a range of professional support services to our students. We encourage anyone affected by these events to speak to someone in student support."
Popular in the Community