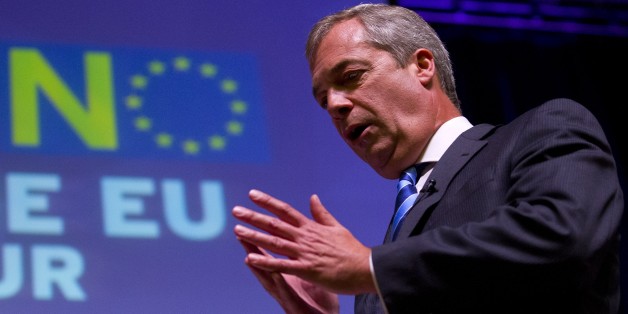 JUSTIN TALLIS via Getty Images
Hundreds of Ukip members making their way to hotels in advance of the party's Autumn conference opening later this weekend were reportedly left "stranded" after they discovered there were too few taxi drivers to chauffeur the crowds.
A BBC journalist claimed attendees were unable to find enough cabbies, as most were given the day off for Eid, a sacred holiday in the Islamic calendar.
The annual event honours a tale told in the Qu'rran, in which Abraham prepares to sacrifice his son to God before the Divine intervenes.
But many Muslim taxi drivers used the day to pray, and were excused from working to celebrate the holiday.
That left streams of confused Ukip conference-goers confused and befuddled, unable to make journeys from Doncaster rail station onwards.
Huge problems for UKIP members trying to get to conference - no taxis from Doncaster station because most drivers have the day off for Eid

— Peter Henley (@BBCPeterH) September 24, 2015
The responses to his post on Twitter were... somewhat predictable.
@MRWHOKIP @BBCPeterH It does.Meant as a slight but actually confirms the point.Taking British jobs...unless you want to argue from ignorance

— phil kitch (@Kitchy65) September 24, 2015
Welcombe to the future. . . . . Now.

— DRIVING_NAKED (@DRIVING_NAKED) September 24, 2015
@bbcpeterh @petewishart why do #Muslims and immigrants in general takeover #Taxi ranks Is it bcoz form a sort of gang and muscle out whites

— euref (@eurefren) September 24, 2015
But there were quite a few swift rebuttals too.
@BBCPeterH Can't they just ride in on their high horses?

— Oonagh (@Okeating) September 24, 2015
@BBCPeterH @daily_politics bloody foreigners coming over here taking our taxi driving jobs, going on religious holidays ...

— Abandoned Gloves (@abandonedgloves) September 24, 2015
.@MRWHOKIP reminds me of Christmas Day. Mare isn't it?

— Swissss (@Swissss) September 24, 2015
@BBCPeterH aren't the British known the world over for their portentous walking habits?

#UKIP - your legs are not just for Union Jack socks!

— Jah, Ya Bass! (@jahyabass) September 24, 2015
@rumdeal @BBCPeterH @NickMotown slight difference between a large organisation and a self-employed individual. By slight I mean big.

— Jeezy Creezy (@Zappabeefheart) September 24, 2015
@BBCPeterH A beautiful irony....they could have walked with their luggage....a small taste of what the Syrian refugees are experiencing!

— Andy Mills (@andymills747) September 24, 2015
The news came in advance of Ukip's annual Autumn conference, which is set to run from Sunday until the following Wednesday.
READ MORE: