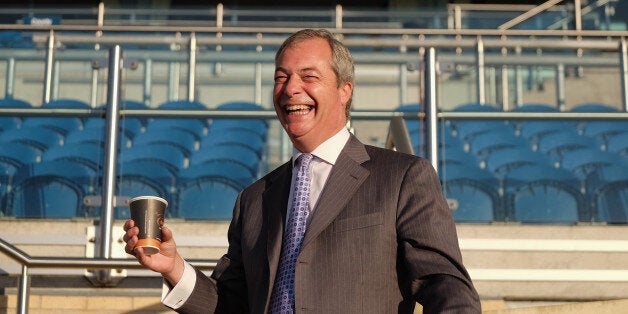 Nigel Farage insists the Ukip conference in Doncaster will be a "celebration" of the EU referendum rather than a traditional party political rally and believes he has been proved right on the immigration issue.
The Ukip leader is due to address party members at 12noon today, with his speech focused on the remain/leave referendum on the UK's European Union membership.
Today, Ukip will officially team up with the campaign group Leave.EU, formerly known as The Know, which is run by party donor Arron Banks.
Mr Farage's attempt to seize the initiative in the 'Leave' campaign comes as his party faces a squeeze in polls, with the latest Ipsos/MORI opinion poll putting Ukip on just seven per cent.
It has also been reported that the party are offering cut price deals on tickets for its Doncaster conference as interest among members also wanes.
On BBC Newsnight last night, Mr Farage said: "Our conference will not be about me, it will not be about UKIP.
"It will be about the fact we're celebrating we've got a national referendum on our membership of the union - something that Ukip has striven for for over two decades."
The vote is due to take place before the end of 2017, after Prime Minister David Cameron has renegotiated the terms of the UK's membership.
In recent weeks Ukip have launched a 300 date Say No To The EU Tour in a bid to fire the starting gun on the 'Leave' campaign.
Speaking on Sky News this morning, Mr Farage said immigration will be the "main issue" of the referendum campaign, and and that "everything I said (on the issue) I think has proved to be true".
He said: "I took a lot of stick in the General Election for saying that I believe that open door immigration and border controls was the number one issue in British politics.
"A lot of people in the Westminster set find that all a bit too difficult, all a bit awkward, not the sort of thing you discuss at dinner in Notting Hill.
"Six months on from that election, everything I said I think has proved to be true.
"Immigration is far and away the biggest issue."
Mr Farage also turned his fire on new Labour leader Jeremy Corbyn, who he described as a "gift" to Ukip.
Reflecting his party's rise in popularity in traditional Labour voting areas in the north of England and Wales, he said: "Respectable old Labour voters don't want to vote for someone who wants to abolish the Queen, give away the Falklands, has sympathy for the IRA and now, on the one thing he might have kept them on board with, his long-term opposition to the EU, he has even surrendered on that."
Popular in the Community