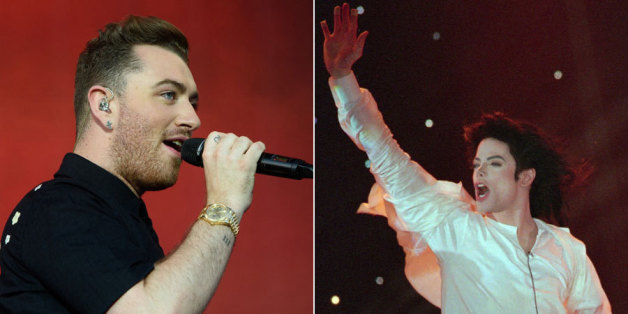 Jonathan Short/Invision/AP/ASSOCIATED PRESS
We thought Sam Smith's new James bond song 'Writing's On The Wall' sounded a little familiar, but couldn't quite work out why.
READ MORE:
Luckily, the lovely folks over at BBC's Radio 1 have got to the bottom of the matter, and as the video below demonstrates, it fits perfectly with a certain Michael Jackson classic…
Bond vs Earth Song. You made us do this. Sorry Sam. #WritingsOnTheWall

September 25, 2015
Amazing.
The station's mash-up came after tweets from music lovers, who had spotted the similarities between the two tracks:
New Sam Smith Bond song...anyone else notice Michael Jackson Earth Song chorus fits into this?? (@scott_mills @Chris_Stark)

— Kevin Dixie (@kevindixie) September 25, 2015
Sam Smith's #Bond theme: what Earth Song would've sounded like if covered by Beaker from The Muppets.

— Barry Marshall (@BarryMarshall81) September 25, 2015
Sam Smith's Bond theme sounds like Earth Song. This is most definitely not a good thing.

— Peter Swan (@peterswan_) September 25, 2015
Sam Smith's bond theme sounds like Earth Song without the banger of a chorus - not great

— James (@james_gu11) September 25, 2015
While industry experts are predicting that Sam's track is destined for the number one spot, film fans haven't exactly lauded it with praise and in the hours after its release, 'Shirley Bassey' began trending on Twitter, as users made unfavourable comparisons between her previous 'Bond' tracks and Sam's offering.
The 'Lay Me Down' singer had a tough task on his hands, especially given the success of Adele's Oscar-winning 'Skyfall'.
'Writing's On the Wall' is available to stream and download now.
LIKE US ON FACEBOOK | FOLLOW US ON TWITTER