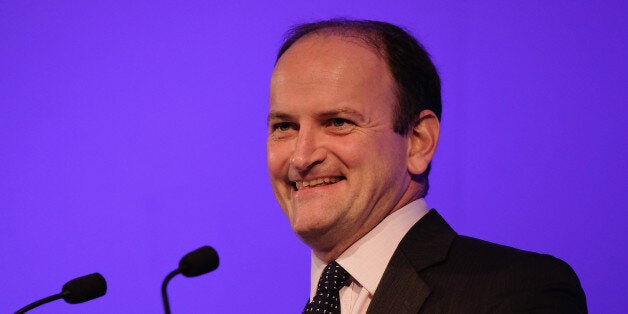 "When you're in politics, let me put it this way, you have to take a lot on the chin and fortunately I've got a very big chin," Douglas Carswell said with a smile.
Ukip's only MP – and the only man to ever win a seat for the party at a General Election – was reflecting on a strange 24 hours.
At the party's biggest get together since May's vote, which saw them pick up 3.8million votes but lose a seat in the Commons, Mr Carswell should have been revered as a returning hero.
He was by the membership. A speech he gave on the second day of the conference was greeted by a standing ovation from hundreds of rank and file Ukippers.
Mr Banks later apologised, but surely the Clacton MP was angered by the remarks?
Speaking to the Huffington Post UK at Doncaster Racecourse, the venue for the Ukip conference, Mr Carswell said: "Since I've become Ukip's MP, I've been attacked by an aggressive group of socialists on the streets of London, and I've been attacked by a plutocrat in Doncaster. I try and be polite and nice to all of them. The best way to respond to people who do that is just to be yourself, to be polite, and allow what they do to reflect on them, not on you."
The spat between the pair occurred after The Guardian reported that Mr Banks was angry that Ukip's only MP had not given his backing to Leave.eu, the umbrella group set up by the multimillionaire to co-ordinate the Eurosceptic campaign ahead of the EU referendum.
Ukip leader Nigel Farage yesterday used his keynote speech to announce Ukip would work hand-in-hand with Leave.eu, believing it would get the designation from the Electoral Commission as the official 'Leave' group.
However, Mr Carswell is an enthusiastic support of the Business for Britain group, headed up TaxPayer's Alliance founder Matthew Elliot – a group which may also bid for official recognition.
Mr Banks, who gave Ukip £1million in the run up to the General Election told The Guardian: "Whoever Ukip decide to endorse, it will be hard for the Electoral commission to say no to that and Carswell will either have to leave or do the same … If it comes to the crunch, the whip will be removed from him or something else will happen."
Mr Carswell raised the issue with Mr Banks when the pair bumped into each other in a corridor at the racecourse venue, asking "who are you" to say he should be deselected.
Ukip leader Nigel Farage seemed to side with his MP in the aftermath, saying Mr Banks had no position in the party to make such threats.
Initially, it was just in the presence of reporters from The Huffington Post UK and Buzzfeed, and a press officer present tried to get Mr Banks to claim he was speaking 'off the record'.
Not only did Mr Banks not do that, he actually walked into the press room set up in the Doncaster Racecourse venue, approached two journalists from Sky and repeated the line.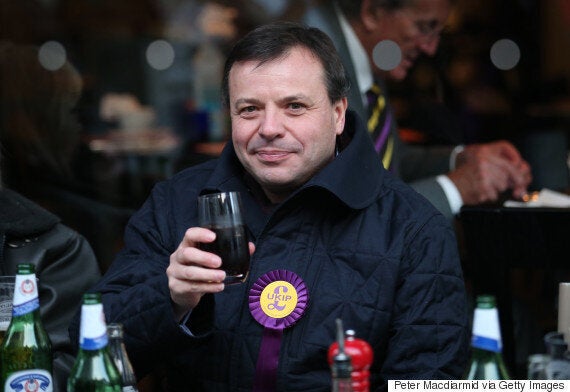 Reflecting on the row the next day, the Mr Carswell told The Huffington Post UK: "When one or two people sometimes brief journalists things that they shouldn't, I plead guilty to very gently and diplomatically putting that in the public domain and asking them very politely why they are saying those things. And that's what happened yesterday.
"I very politely said to Mr Banks why was he going round suggesting if I didn't do as he wanted I'd be thrown out of Ukip. I'm pleased that we have now got clarification on that.
"I always do it very politely and very respectfully. I think I have a sense of directness and if people are going round saying things they shouldn't say about me I very politely ask them why they're doing it. When you're in politics, let me put it this way, you have to take a lot on the chin and fortunately I've got a very big chin. Politics can be a rough trade, it's the nature of the game."
Mr Carswell stands out in Ukip, and not just because he is the only one to sit on the green benches of the Commons.
He is relentlessly positive, convinced that it is the only way to convince enough people to vote to leave the EU in the referendum.
From the very beginning of his time in Ukip, Mr Carswell struck a different tone. In his acceptance speech after winning the Clacton by-election last October, he appealed for his "new party" to be "for all Britain, and all Britons, first and second generation as much as any other."
In his speech to conference today, he repeated these sentiments, and also called for Ukip activists not to "blame outsiders for the problems caused by insiders in Westminster."
Words of that ilk, which sit alongside Mr Farage's criticism of HIV positive migrants receiving NHS treatment during the election, do not fit into Carswell philiosophy.
While he accepts that Ukip's focus on immigration has attracted many to the party in recent years, he knows the message needs to be more positive in the EU referendum campaign.
"It's the way to do politics in the age of anti-politics," he said. "Everyone now clocks the fact we live in age of anti-politics where voters are disengaged and cross but in the age of anti-politics you need to offer people a smiling face, a broad coalition and broad grin.
"Look at Sturgeon in Scotland, when you think of her you think of a smile. Anti-politics must never be about telling people about the things that make them angry, you start off with that, you acknowledge why they feel cross but then you have to give them a credible outline of where you go from here. And that's why people have done incredibly well on the issue of immigration. People feel really strongly about immigration and we've got a credible coherent idea. We can say we need an Australian-points based system.
"If you're an advocate for change, change means things not being the same. By definition, if you're a change party, you have got to be an optimistic party, because the alternative is to be advocating people vote for you in order to make things worse."
He added: "Being a change party and not being optimistic will be a bit like trying to be an aeroplane without wings."
The Huffington Post UK asked Mr Carswell how he would pitch the Eurosceptic campaign to attract voters in their teens, twenties and thirties, who might be naturally pro-European and turned off by politicians who focus on immigration.
He said: "The strongest arguments for leaving the EU, and I said this when I was a Conservative, are not about sovereignty and the constitution and they are not technical arguments about procedure. The strongest argument for leaving the EU is saying 'look, 93 per cent of the world's population live outside the EU. There are tens of millions of middle class people in China, India who are prospering. Our future lies in being a global country.
"Being in the EU means that we are ill-equipped for that change. Being in the EU means we are being run by a group of people who ran Greece into the ground. We are run by an elite who descend off corporate jets to preach austerity to the world. We need to frame the debate about more liberal values, not a rejection of liberal values."
The former Conservative MP claimed EU regulations have directly led to a reduction in clinical trials in the UK, which is damaging the development of the bio-technology sector in Cambridge.
Despite the arguments and insults of the previous 24 hours, Mr Carswell insisted he was having more fun in Ukip than he ever had in the Conservatives.
He seems determined to keep the smile on his face, regardless of the actions of Mr Banks.
The Bristol businessman is becoming increasingly divisive within the party – the latest figure Mr Farage has bought into his inner circle with the ability to alienate others.
His previous aide Raheem Kassam, who was present at the conference as journalist for right-wing website Breitbart, also rubbed people up the wrong way, and he was described as a "wrong-un" by Ukip MEP Patrick O'Flynn in the aftermath of the General Election.
One senior Ukipper, speaking on the condition of anonymity, said they were frustrated by Mr Banks' behaviour and attitude towards Mr Carswell.
As for the rank and file Ukippers, they seem to love both Mr Carswell and Mr Farage in equal measure. Throughout the Clacton MP's speech this morning, members remarked to each other how great he was, and returned his thanks for their help in getting him elected with gusto.
Advanced copies of Mr Carswell's speech had been circulated to those at the top of the party prior to him taking to the stage, and more than one of them were concerned he may deviate from the script to reflect the row with Mr Banks and create more damaging headlines.
But he didn't. It was pretty much word for word. And it was positive.