Sonos has unveiled its new Play:5 loudspeaker. It's the replacement to the old Play:5 that was released over six years ago and helped establish Sonos as the leading wireless speaker brand for the home.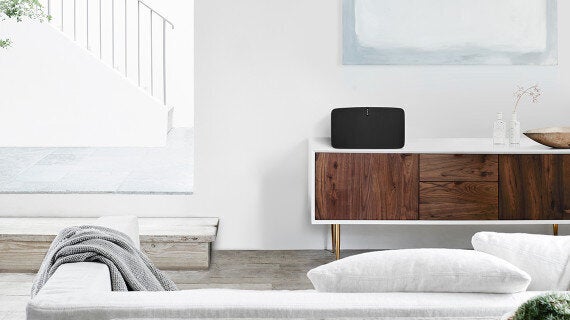 The new Play:5 isn't just an update on the old model, this is a speaker that has been six years in the making, from design to sound and as such it boasts some incredible new attributes.
One of its most impressive features comes courtesy of the Sonos app. Called Trueplay the app is able to analyse the layout and the acoustics of a room by using the microphone on either the iPhone of iPad.
You simply place the speaker wherever you want (behind a curtain if you really don't like having it out) and then follow the instructions on the app.
This will involve some fairly awkward wandering around but as you walk around the room with your iPhone, the microphone and the app analyse the layout of the room and its acoustics, compensating the speaker for where you've placed it.
So theoretically you could place it somewhere utterly moronic and still end up having a great sounding speaker.
The Play:5 isn't just smart because of the app though. It has been meticulously designed and engineered to sound a LOT more expensive than it actually is.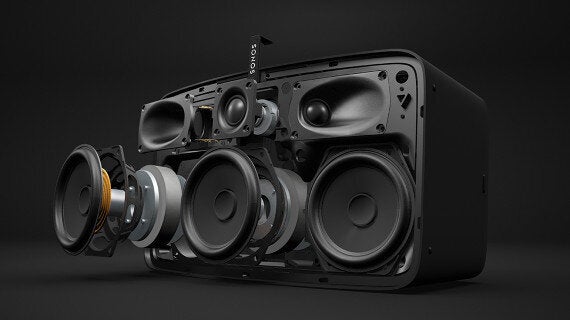 Six drivers combined together intelligently allow the Play:5 to create an incredibly wide sound space with the vocals firmly placed in the centre of the action.
Sensors built into the body let the Play:5 know whether it's being laid flat or alternatively turned on its side while a touch-sensitive control interface on the top is subtly integrated into the design.
Unlike the old Play:5, the new model has also been built from the start to work as both a single unit and as part of a group. So no matter how many you have in one room, they'll all work together and adjust their sound profiles accordingly.
The new Play:5 will be available later this year for £429.