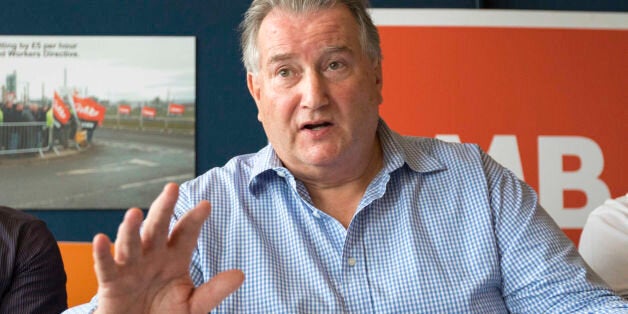 The leader of one of Britain's biggest trade unions has warned Jeremy Corbyn may never be able to take on the role of Prime Minister after the new Labour leader said he would not launch a nuclear strike.
Sir Paul Kenny, general secretary of GMB, said there was already a "lot of debate" around the Islington MP's leadership and whether he could lead the party to a win in 2020.
He was accused of pre-empting a review by shadow defence secretary Maria Eagle of Labour's current policy - which many Labour MPs and shadow ministers still support - of retaining the deterrent.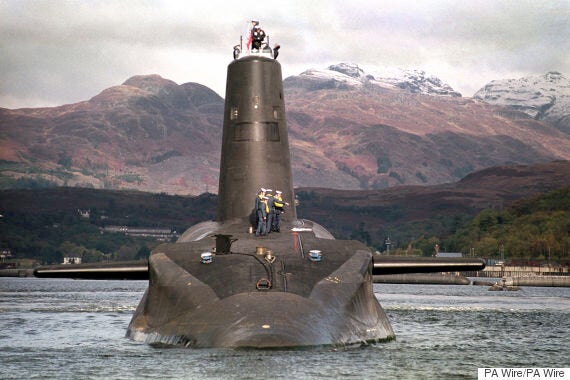 Royal Navy's 16,000-ton Trident-class nuclear submarine HMS Vanguard
Corbyn insisted that even if his party's membership voted to retain the current position, he would carry on as leader.
"If I can persuade the whole of the Labour Party to come round to my point of view, I would be very, very happy indeed. I will do my best. If I can't, we'll live with it somehow," he told ITV News this week.
But Sir Paul, whose union did not endorse any of the candidates in last month's leadership race, suggested that Corbyn would be unable to take up the post of prime minister if Labour remained committed to multilateral disarmament - adding that the UK should only give up its arsenal if other nuclear powers agreed to do the same.
"That may well be right," he said to Channel 4 News. "At the end of the day, if you are in that role and the party is multilateral and that is the position you are elected to the country, then maybe somebody else should be given the (nuclear) button."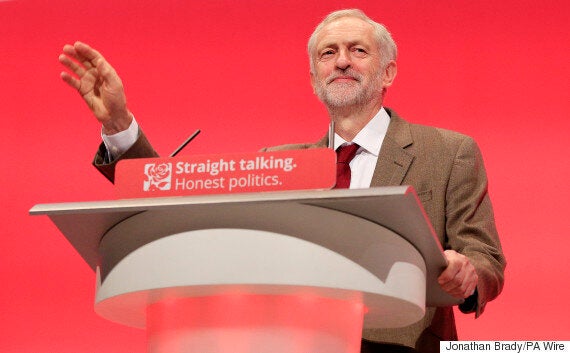 Corbyn speaking at his inaugural conference leaders speech
"Nobody wants their finger on the button. But if we get to that stage, the first and most important priority for this country is the defence of the realm."
He added: "You cannot go into any argument with anybody anywhere on the basis that the other guy on the other side of the table knows you ain't going to do nothing. Straightforward."
The fact that such a senior figure in the Labour movement has commented so publicly about whether Labour's new leader could ever cut it as prime minister is likely to alarm and anger his supporters.
Earlier, on the final day of this weekend's party conference held in Brighton, Eagle complained that Corbyn's admission he would never use nuclear weapons had "undermined" her review of defence policy.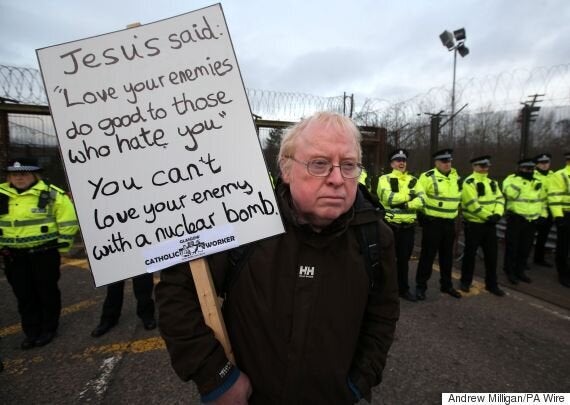 A demonstrator pictured protesting against Trident
"I don't think that a potential prime minister answering a question like that, in the way in which he did, is helpful," she said.
Shadow foreign secretary Hilary Benn, who has warned that he would resign if the party adopted a policy of unilateral disarmament, also weighed in, commenting that a potential PM had to be to prepared to sanction nuclear action.
"Any prime minister has to have the option because that is the whole theory on which deterrence is based."
Corbyn has since sought to play down the growing split in his party, insisting that no decisions were needed until next summer when a Commons vote is expected on Trident renewal.
"I hold a view which is well known on nuclear weapons and it is a view which I have held all my life," he said.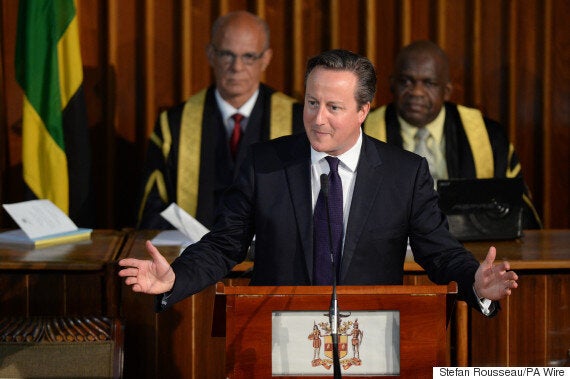 Cameron delivering a speech to MPs in Jamaica
"We are not in the era of the Cold War any more. I am opposed to the use of nuclear weapons, I am opposed to the holding of nuclear weapons. I want to see a nuclear-free world. I believe it is possible."
However David Cameron said his opponent's comments showed Labour could not be trusted with Britain's national security.
"The independent nuclear deterrent that we have in Britain is a vital insurance policy for our nation in what is a very dangerous world," the Prime Minister told reporters during a visit to Jamaica.
"And, frankly, the way the Labour leader has answered that question demonstrates that Labour can't be trusted with our national security which, after all, is the most important duty of government."
Popular in the Community