Alex Salmond found himself in a bizarre situation with airline staff after booking on to a flight under the name James Kirk - the captain of Star Trek's USS Enterprise.
The former Scottish first minister caused confusion when British Airways initially refused to let him board a flight at Heathrow under the sci-fi alias, the Press Association reported.
It took a series of phone calls for the senior politician to persuade the airline that he should be allowed on board, The Mail on Sunday claims.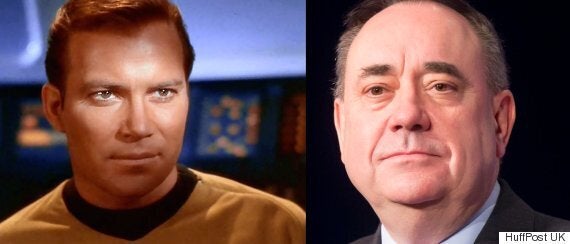 Alex Salmond likes to check into flights under different names
Mr Salmond said he often travelled under a false name for security reasons and as a Trekkie - as fans of the show are known - he liked to use Kirk's name, partly as a joke but also because it was easy to remember.
It is understood the confusion at the airport only lasted for a couple of minutes before being resolved.
But Mr Salmond indicated that in future he will be travelling under a different name.
He said: "Now that my cover has been blown by the Mail on Sunday, I will choose another Star Trek character - but not Mr Spock because that would be illogical."
The incident took place over the summer when Mr Salmond tried to fly back to Scotland after a week at the Commons.
Mr Salmond has previously described himself as an "obsessive Trekkie" and the show's fan club made him a "Starfleet Officer" and gave him a "Membership of Distinction".
Popular in the Community