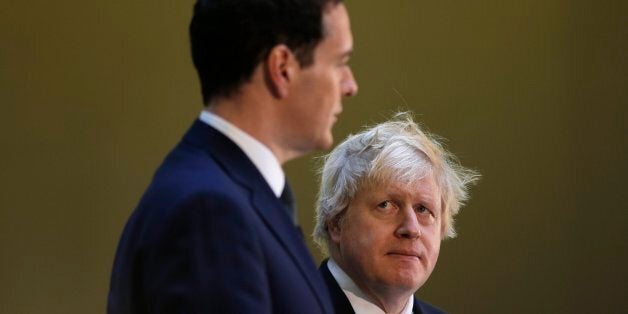 Boris Johnson is to raise the stakes in the row over the Government's tax credits cuts by using his Tory conference speech to warn against hitting the 'lowest paid' working parents.
In a direct challenge to George Osborne's controversial policy, the Mayor of London and MP for Uxbridge will take to the stage in Manchester to declare that his party cannot abandon those who do the right thing.
"We must ensure that as we reform welfare and we cut taxes that we protect the hardest working and lowest paid," he is expected to say on Tuesday.
"Shops workers, cleaners, the people who get up in the small hours or work through the night because they have dreams for what their families can achieve."
He will describe such workers as "the people without whom the London economy would simply collapse, the people Labour is leaving behind".
The HuffPost UK understands that Mr Johnson is 'studying a range of options' to protect Londoners from the worst impacts of the tax credit cuts. He has already welcomed a plan from Labour's Frank Field to try to change tax credit thresholds to help the poorest.
The Mayor, who will be introduced by new London mayoral Tory candidate Zac Goldsmith, will also launch an attack on the far Left under Jeremy Corbyn who want to run London and the country.
The independent Institute for Fiscal Studies has warned that 13 million families will lose an average of £240 a year when the cuts come into effect in April, while 3 million will lose £1,000 or more.
Many are expected to receive in December their first letters from HM Revenue & Customs outlining the cuts to their household budgets.
The Sun reports that Mr Johnson will use his speech as a wider jibe at George Osborne for stealing his policies on a living wage, infrastructure and localised business rates.
"It is wonderful now to see the London agenda being rolled out across the country. In fact the only type of crime currently going up is theft of City Hall policies," he's expected to say.
David Davis said this weekend that he feared the tax credit cuts could turn into another 'poll tax' for the Tories, undermining the party's reputation for backing hard work.
Both David Cameron and George Osborne have stood firm in the face of the criticism, making clear there will be no rethink of the policy.
Health Secretary Jeremy Hunt sparked a fresh row by suggesting that the cuts were needed to shift Britain's welfare 'culture' towards the 'hard work' of Asians or Americans.
But some ministers expect the Chancellor to cushion the blow at some point, without amending his plan, by offering other forms of help to working parents.
In his speech, Mr Johnson will argue that protecting the hard-working poor is a key part of offering hope to those who want to get on in life.
"If people are to feel bound in to this system then there must be hope and aspiration, and above all there must be opportunity and it is here that we Tories have a massive advantage.
"Because if Labour is once again becoming the party that pointlessly bashes the rich it is we who give everyone the tools to make their own lives and their own successes."
He is will point out that he has twice beaten Ken Livingstone and his leftwing allies in London.
"I know these people, my friends, they are the London Labour party, tankies and trots with interesting vests and militants with vested interests," he is expected to say.
"They are the people who idolise the late Hugo Chavez of Venezuela and believe the only problem with socialism is that it has never been properly tried and I know them because we have fought and beaten them twice.
"And the reason I first wanted to get into that fight eight years ago is that I am fundamentally opposed to that style of politics. They have the same ruthless methods as the old colonialists that they purport to despise in that they believe in divide and rule
"Where there is a grievance, they foment it; where there is sectarianism, they take sides. Where there are racial or religious or ethnic divisions their instinct is always to accentuate and to balkanise."
Boris will add that "there is one conflict they relish above all others, and that is economic class war - the irrational belief that you can somehow exalt the poor and the needy by bashing the wealth creators".
He will underline his 'One Nation Conservative' ethos with a call for "a united society where the different elements are bound together by an irreducible set of values, democracy and freedom and equality under the law."
Popular in the Community