One little dog has showed an incredible amount of bravery after fighting off two bears from its property.
Jewels, a french bulldog from the city of Monrovia, California was caught on CCTV footage jumping up and scaring away the large predators.
The pooch's owner had recently installed the camera outside his property in a bid to find out a way of ridding the huge pests.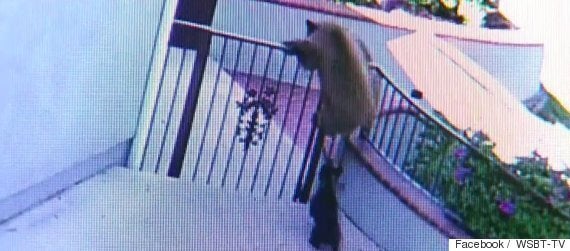 It's not about the size of a dog...
Little did he know that the recordings would capture Jewels in a moment of magnificent heroism.
When asked about the confrontation, homeowner David Hernandez told WSBT-TV: "[It] blew me away,
"I couldn't believe it … she turned into a wolverine."
The display became even more impressive when the news outlet reported the estimated weight of the bears to be around 100 lbs (45 kg) each.
The sighting of bears is not uncommon in the city of Monrovia. Its vivid array of wildlife also includes coyotes, and mountain lions.
Although predators may think twice before approaching Jewels house again.
The pooch has definitely gone lengths to prove that when it comes to marking territory - it doesn't matter what size you are!
Popular in the Community