A former hedge fund manager who drove up the price of a life-saving AIDS drug by more than 5,000 percent has been schooled on his capitalistic tendencies - by a Tinder match.
However, New York-based writer and comedian Eve Peyser says she began to chatting to Shkreli last week, asking him how he felt about the original incident's coverage and probing the practices of big pharmaceutical companies in America.
Leading with a strong opening gambit, "DTGMAD?" - which she later translated to mean "down to give me AIDS drugs?" – Peyser asked her digital suitor how he wish the ordeal had been reported by journalists.
"Accurately would be nice haha" Shkreli mused.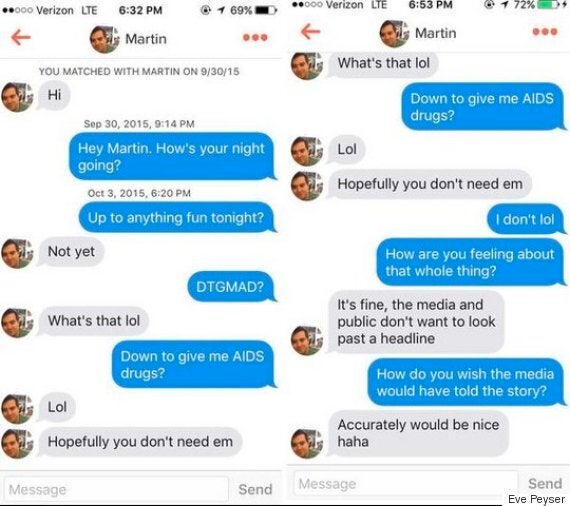 The couple's first exchange
"So your side of the story is that insurance companies would cover the additional cost and by raising the price you're putting the money back into research?" Peyser asked.
"Something like that", came the reply.
Musing, Peyser gave him her stinging verdict: "I mean tbh [to be honest] you did what so many big pharma heads do: Privilege profit over regard for human life. You just got called out on it. Capitalism is awful."
The tycoon protested, saying AIDS had been "forsaken by drug companies for not being profitable enough".
"Only a few thousand people get it," he added, "so no new drugs for 70 years. Now we'll fix that. Also no-one goes without drug even if they can't afford it."
But Peyser was having none of it, writing back "I mean that's the issue if you privilege profitability," quickly adding that the furore over a 5,000% price-rise was strong evidence a public healthcare system was needed.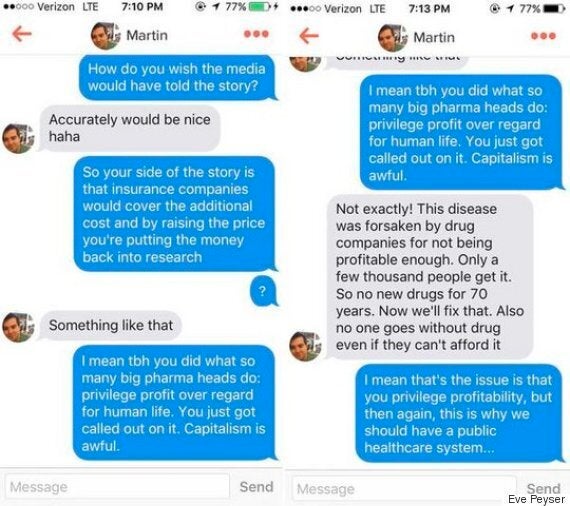 Several hours later, and with no response, the writer asked if her position on capitalism had offended the man reported to be Shkreli.
He answered: "No no not offend just disagree. It's usually irreconcilable."
But determined to get to the bottom of Shkreli's motives, Peyser enquired why he thought people were so outraged about what he had done.
"Well they don't understand it and want to be angry at someone. So someone young and irreverent sounds good," the man insisted.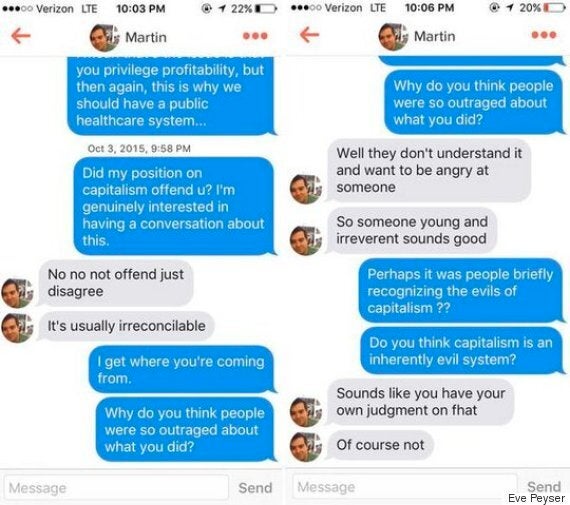 Peyser dealt her last, swift blow with a zinger.
"Do you think you're the Snowden of AIDS drugs?" she asked.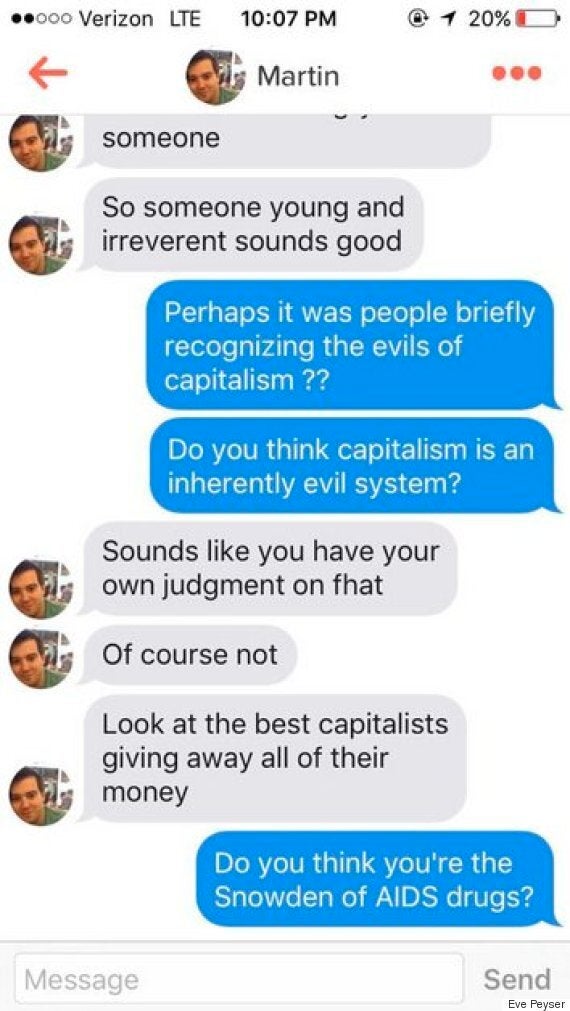 Doesn't look like there'll be a first date then.