Commuters were shocked on Tuesday morning to see a suited mannequin - thought to represent a member of the Conservative party - swinging by its neck from a bridge.
The dummy was hoisted into place alongside banners reading "Class Resistance Tories Out", according to the Manchester Evening News.
The apparent anti-Tory protest took place above the Princess Parkway near the M60 Chorlton junction.
An effigy hangs from a bridge on the way into Manchester and the tory conference #CPC16 #austerity pic.twitter.com/HBY3QJ5FGb

— Christopher Furlong (@Chris_Furlong) October 6, 2015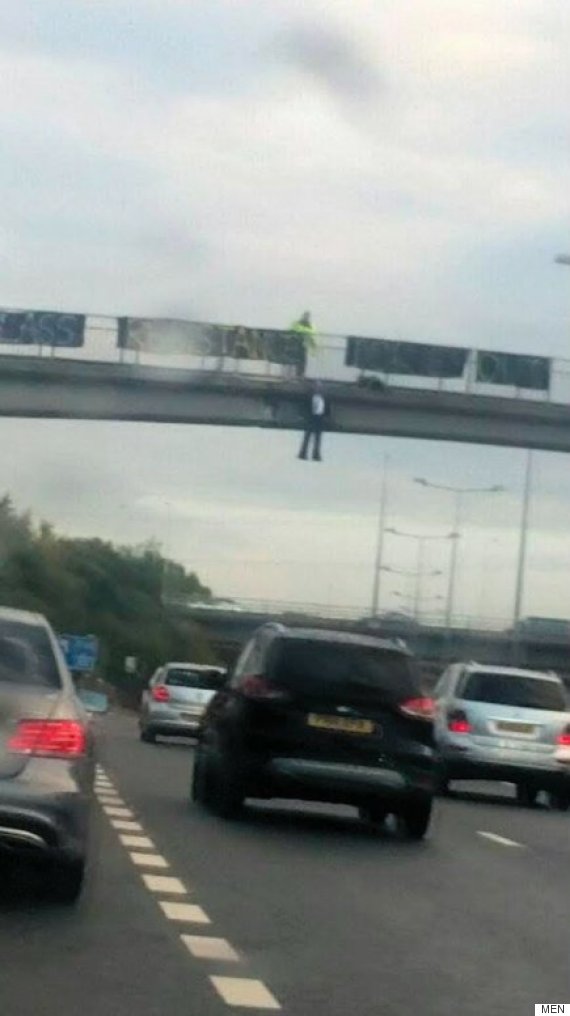 Commuters were shocked to see the effigy hanging from a bridge on the M60
Scott Welsby, who took the picture, told the MEN: "I really thought it was real at first. There was a policeman on the bridge, taking it off.
"As I got closer, you could see it was a dummy, but it really looked like a person. The protest has just gone too far.
"There were kids on the school run who could see it. Children don't understand austerity or cuts or anything, they just see something that looks like a body hanging from a bridge.
"A girl in the car next to me was crying her eyes out. It's just too much."
North West Motorway Police tweeted:
We have taken a report of a Mannequin on the overbridge a J5/6 M60 CW @HighwaysNWEST are in the area & this will be removed.

— NW Motorway Police (@NWmwaypolice) October 6, 2015
An officer in a high-viz jacket was later seen removing the dummy.
Many people were less than impressed with the stunt…
@MENnewsdesk half wits

— Gra Warner (@GraWarner7) October 6, 2015
@MENnewsdesk @Ironwand The point being anyone who wears a suit is what exactly ?

— You Engage (@YouEngage) October 6, 2015
@MENnewsdesk ...roll on Friday when the people can #TakeBackMCR from this shower of **** and we can have our city back...

— Tom Jameson (@ghostlytom) October 6, 2015
@MENnewsdesk Doesn't exactly aid road safety.

— Ant_on_knee (@Anthony3291) October 6, 2015