A television reporter has stunned the world after reappearing on air just hours after being hit by a grenade.
Hanna Mahameed can be seen in the opening moments of the news segment being struck by the blast. The explosion reportedly took place during a clash between Israeli police and Palestinian protesters in east Jerusalem.
Remarkably, the journalist returned to air on Lebanon-based Al-Mayadeen TV later in the day with her head and face bandaged.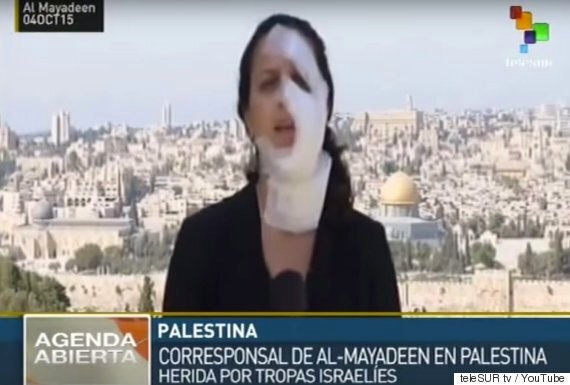 The reporter returned to air just hours later
During the opening moments of the footage Mahameed could be seen screaming in pain as she was struck by the impending grenade.
Locals surrounded her, attempting to aid her before she was taken to hospital to be treated for severe burns to her face.
In reaction to the events, one Twitter user wrote: "Palestinian journalists show enormous resilience. Hana Mahameed took Israeli grenade in face, back to work in hour."
Although despite such assumptions that Mahammed chose to swiftly reappear on air, some claim she was forced to by the station itself.
Raed Sobies, a colleague of Mahameed, told The Independent that doctors had advised her to take time off work to recover.
She had been forced to continue working, Sobies said, while the TV station found another reporter who will be allowed access to Israel-Palestine by Israeli authorities.
According to the Associated Press, Israeli police said the clash took place while forces were detaining the father of a Palestinian teenager, Fadi Alloun, 19, who was accused of stabbing an Israeli teen early Sunday before being shot dead by police.
Popular in the Community