A woman was left "petrified" after a large group of rugby fans appeared to scrum her car as it waited at traffic lights in south London.
Miss Morris's father, James Morris, told the Wandsworth Guardian: "I was in a pub in Earlsfield and she was coming to pick me and my wife up when these 20 blokes attacked her car at the traffic lights.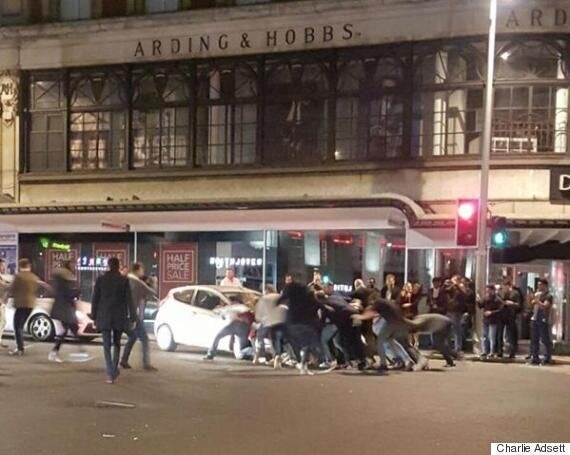 Twitter user Charlie Adsett spotted the scene on a night out in Clapham, south London
"They came out of the Grand, where there was a big rugby event on, and tried to basically scrum her car."
He continued: "It damaged the front of the car and she was absolutely petrified - police have the CCTV and many passers-by took pictures and videos."
The local Grand nightclub had been showing matches during the World Cup, including Saturday night's game.
Witness Charlie Adsett told the London Evening Standard: "I do not think anyone was aware that she was upset. They were not trying to damage the car. Everyone was in a jovial mood."
Nonetheless, Miss Morris, who drives a silver white Ford Fiesta and works nights at a nearby supermarket, has been left shaken by the incident, her father said.
A report has been made to the Metropolitan Police. It has asked witnesses and those with information to contact Crimestoppers on 0800 555111 quoting crime ref 0321431/15.
Popular in the Community