A filmmaker has captured mesmerising footage showing the sheer scale of whales compared to humans in Esperance, Western Australia.
Jaimen Hudson, who is a local to the area, shot the blissful video of the ocean giants on a DJI Phantom 3 drone.
During the three minute clip he captured his neighbour Dave Price peacefully paddling alongside the mammoth creatures.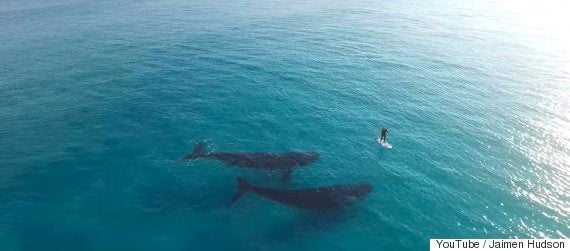 The paddle boarder is dwarfed by the whale
In an interview with Mashable, Hudson said: "It just so happened that he was out at the time, and a few people let me know there were whales on the beach and it all just went from there.
"They were really curious and came over to meet [Dave] ... Just very inquisitive about him, I don't think it was really that dangerous at all."
The camera which Hudson was using which can fly up to 1.2 kilometres (0.7 miles) away from its controller.
The Australian frequently visits the whales and uploads his drone videos on Instagram and YouTube.
The footage of the paddle boarder has now been viewed over two million times, prompting Hudson to remark: "The reaction to this clip has been huge and I really enjoy doing it, so hopefully I can take it further one day."
Popular in the Community