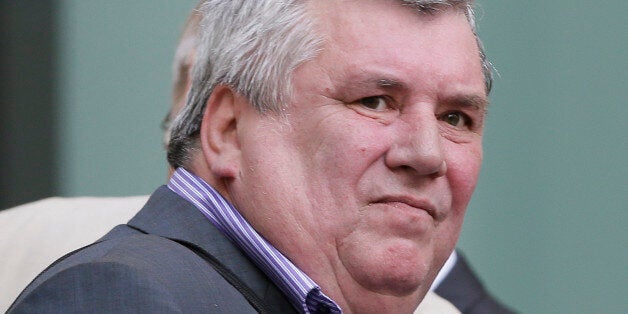 The ex-head of news at defunct tabloid News of the World (NOTW) has spoken for the first time in a tell-all television interview, claiming the paper's journalists systematically hacked the phone of David Beckham.
Greg Miskiw, handler of a disgraced private investigator who was handed a suspended sentence for phone hacking at the tabloid, claimed reporters turned to crime for exclusive stories.
"The objective was very simple, just get the story… no matter what, no matter how," he told Channel 4 News.
Miskiw, who was dubbed "The prince of darkness" for his role in hacking, was former head of investigations at the NOTW until 2005, but revealed in his stint on the paper: "We hacked David Beckham's phones routinely, all the time, over and over again."
The ex-England captain has always said he believed he was one of the most high-profile victims of the phone hacking scandal but Miskiw's admission on Friday is the first time a senior journalist has confessed it ever did take place.
Miskiw also claimed phone hacking was used to unearth one of the best-remembered scoops, when his newspaper claimed Beckham had an affair with his assistant Rebecca Loos.
Beckham has always denied the allegations.
"The David Beckham story... we had to track all these phones. From recollection I don't think we got anything of any significance from doing Beckham's phones," Miskiw said.
Miskiw told the broadcaster he was deeply sorry for the way his activities had affected friends and relatives of celebrity phone hacking victims, but that in the "bubble" of the newspaper's headquarters, anything was fair game.
"Of course I am distressed by it. It haunted me for a long time and it still occasionally haunts me. You were in a bubble at [the NOTW], where the objective was very simply just get the story. No matter what. No matter how."
He added he was "devastated" by his old paper's hacking of teenage schoolgirl's Milly Dowler's phone, while she was still missing. The hacking gave her family false hope she was still alive.
"I was in Florida at the time and I just lay down on my bed and stared at the fan for a couple of hours thinking how awful," Miskiw said.
"It was like a scene out of a movie. I was just absolutely devastated, absolutely devastated."
The 65-year-old has previously been dubbed the 'Prince of darkness' by fellow journalist Graham Johnson, who himself admitted phone hacking while working as investigations editor on the Sunday Mirror.
Talking about Miskiw, Johnson, who persuaded him to speak out and is now a reporter at Byline Media, has said: "He was master of the dark arts.
"Glenn Mulcaire was the private detective who hacked phones, hacked emails, who broke into confidential records, and Greg was the recipient of most of that illegal information.
"It was being called the King's Cross station of the dark arts because everything went through him."