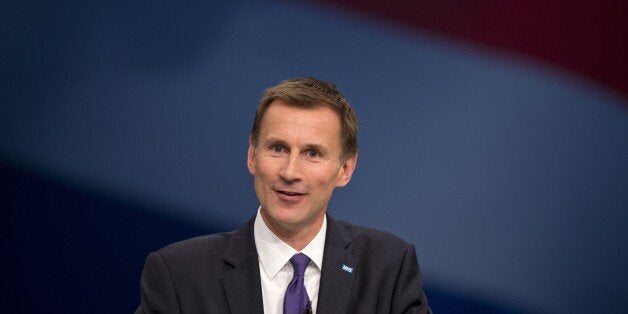 Labour MP Helen Goodman has apologised for tweeting a "bizarre" criticism of health secretary Jeremy Hunt's wife.
The MP for Bishop Auckland said on Sunday evening: "If China is so great, why did @Jeremy_Hunt 's wife come to England?"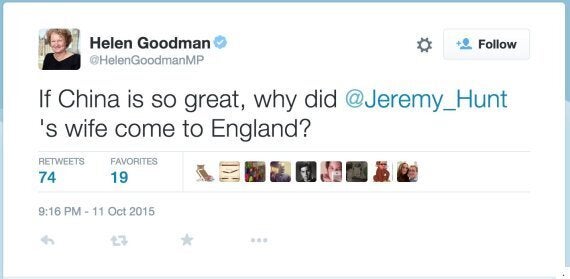 Following a backlash on Twitter, Goodman deleted her original tweet and aplogised.
Hunt's wife was born in China. Last week the health secretary triggered a row after he appeared to suggest welfare cuts would encourage British people work as "hard" as people in Asia.
Goodman's tweet was immediately condemned by members of her own party. Baroness Smith of Basildon, Labour's shadow leader of the House of Lords, said: "It's absolutely bizarre; I don't understand it all. I don't know what she's trying to say or the meaning behind it.
"But yes if that is her tweet she should apologise. I've no idea what she is trying to say. Presumably Mrs Hunt lives in the UK because she's married to Mt Hunt and she's in love with him and wants to be with him, so end of story.
"There's lesson for all here, our partners and families are no int he public domain to be criticized and commented on."
A Labour spokesperson said: "This does not represent the views of the Labour Party. Helen will be reminded of her responsibilities as an elected Labour politician."
Labour MP Jess Phillips said it was "very, very offensive".
Labour MEP Claude Moraes said he was "sad" that Goodman had not quickly deleted the tweet given the reaction it had.
Liberal Democrat leader Tim Farron said Goodman's tweet was not in keeping with Labour leader Jeremy Corbyn's call for a "kinder politics".
Conservative MP Nadhim Zahawi replied to the tweet and said Goodman should apologise.
Other Conservatives also criticised Goodman. Burton & Uttoxeter MP Andrew Griffiths said: "Helen, what was going through your mind when you tweeted this? Has your account been hacked?" He added: "Have you decided to become the poster girl of Britain First."
Popular in the Community