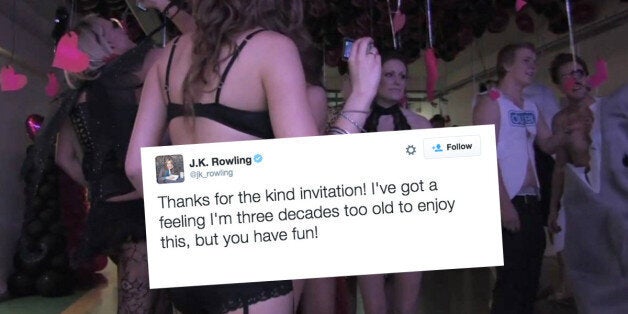 Organisers invited Rowling to the event, described as a staple of the Exeter social calendar, as she's perhaps the university's best known graduate.
And while the invite was kindly received, Rowling declined the opportunity.
Rowling attended Exeter in the 1980s and remains an active alumni, although not perhaps to the extent of attending after-hours events.
The Exeter Uni Tab reports that famous (ish) faces are known to attend the yearly event which has been running for over two decades.
Last year 'The Apprentice' star Solly Akhtar was spotted in the crowd, having graduated and taken part in the entrepreneurial reality show.
Event organiser, student Pierre G H Keyzar, told the site: "The Safer Sex ball has a long history of donating funds to the local HIV and sexual health charity – The EddyStone Trust – these funds directly support local people living with and affected by HIV.
"They also work with young people in schools, colleges and universities, offer a programme of training and education for professionals and outreach and prevention work."
Popular in the Community