Jeremy Corbyn's "People's Prime Minister's Questions" risks becoming "polite but little noticed", a leading pollster has warned ahead of the Labour leader's second head-to-head with David Cameron.
Peter Kellner, YouGov chief executive, says stripping the Commons exchange of "drama" by asking six questions from the public could lose the "raw and rumbustious" tone that makes it appealing.
In turn, he says without striking a balance between "light and heat" the face-off could return to the "bad old days of shouted, bogus questions and shouted, bogus answers" that many find off-putting.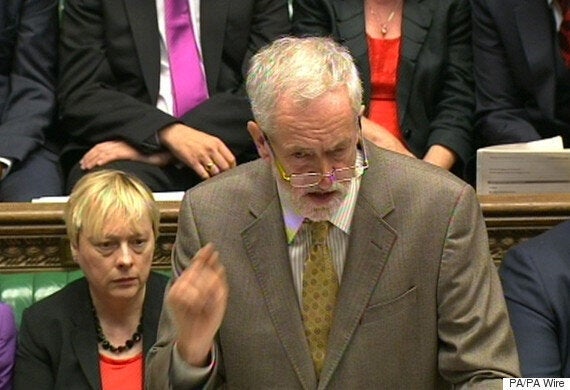 The Labour leader asked questions from Marie, Stephen, Paul, Claire, Gail and Angela
His comments come after the polling company conducted a survey for the Hansard Society that found the session is "on the right track" as public approval jumped sharply.
Repeating a series of questions that Ipsos-MORI asked in December 2013, when Mr Cameron's opponent was Ed Miliband, the survey found.
The proportion saying that week's PMQs was "too noisy and aggressive' halved from 47% to 23%
The number saying "there was too much party political point-scoring instead of answering the question" was down from 67% to 45%.
The proportion saying that "the MPs behave professionally" doubled, from 16% to 34%.
On other measures there was "little or no movement".
37% saying it was informative (compared with 36% in 2013).
20% describing it as 'exciting to watch' (20% in 2013).
14% saying 'it made me proud of our Parliament' (12% last time).
"The obvious conclusion is that Corbyn – and therefore Cameron – are on the right track," Mr Kellner says, adding a "sustained change to a more courteous and informative approach to PMQs would win public approval".
But he cautions the session could become similar to the committee of the senior MPs who grill the PM four times a year.
Of the Commons Liaison Committee, he says: "The audiences are small, the follow-up in the press, online blogs and TV news bulletins are usually minimal, and public impact almost certainly zero."
"Can they provide both light and heat?," he asks. "Can they combine information and drama?
"If they can, then a reformed approach to PMQs could play a real, if modest, part in reviving public faith in what goes on at Westminster.
"If not, then we will end up with either polite but little-noticed changes or – more likely, I fear – a return to the bad old days of shouted, bogus questions and shouted, bogus answers."
Related