'The Apprentice' might be on its eleventh outing, but the business reality series shows no sign of dwindling in popularity, judging by the opening show's ratings.
READ MORE:
Around 6.4million of us tuned in to see Lord Sugar put the latest batch of business hopefuls through their paces on Wednesday night.
That figure is ever so slightly down on last year's series opener, which attracted an audience of 6.6million.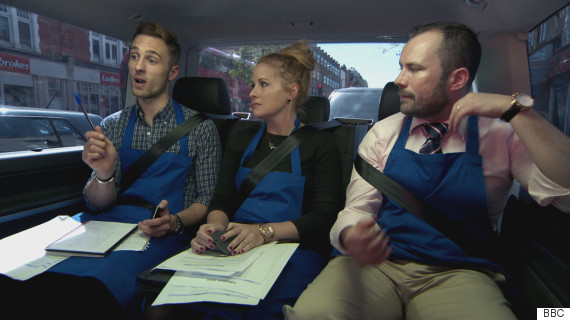 But despite a lot of us tuning in, Twitter was left decidedly unimpressed with the latest bunch of contestants, who, in true 'Apprentice' style, unashamedly talked themselves up only to then fail to grasp even the simplest of concepts for their fishy task.
You know, like thinking anyone would pay nine quid for a tuna salad, something that wasn't lost on Lord Sugar's right hand woman, Karren Brady.
£9 for a salad! pic.twitter.com/FI7b4w5QDe

— Lady Karren Brady (@karren_brady) October 14, 2015
Only apprentice candidates would go into a vegan cafe to try and sell fish 😂😂👌🏻 #TheApprentice

— Emily Diamond (@EmilyDiamond11) October 14, 2015
Worst salad salesman ever. #theapprentice pic.twitter.com/2wAkB6GcmN

— The Apprentice (@bbcapprentice) October 14, 2015
So happy that #TheApprentice is back. Already amazing and the perfect research leading up to shooting the new Brent movie. @Lord_Sugar

— Ricky Gervais (@rickygervais) October 14, 2015
Yes Ep 1 of the #TheApprentice it's tool spotting time!!

— Jack Whitehall (@jackwhitehall) October 14, 2015
Dear God...this lot are a disgrace to quarter-wits. #apprentice

— Piers Morgan (@piersmorgan) October 14, 2015
"Can I interest you in a Tupperware tub of egg and fish for the price of the National Debt?" #apprentice

— Alex T Smith (@Alex_T_Smith) October 14, 2015
21p for each person in The Apprentice. If they worked for 42.8 days straight they could afford a £9 salad. #TheApprentice

— Scott Bryan (@scottygb) October 14, 2015
They're… wait for it… FLOUNDERING #Apprentice

— BrokenBOOtleboy (@brokenbottleboy) October 14, 2015
The second episode of 'The Apprentice' airs at 9pm on BBC One tonight (Thursday).
LIKE US ON FACEBOOK | FOLLOW US ON TWITTER