A hunter has shot dead one of the largest elephants ever seen in Zimbabwe, according to reports.
The huge creature is thought to be the biggest elephant killed in Africa for almost 30 years, according to the Telegraph.
The elephant was shot on 8 October at Zimbabwe's Gonarezhou National Park by an unnamed man believed to be a German national, who paid $60,000 (£39,000) for the privilege.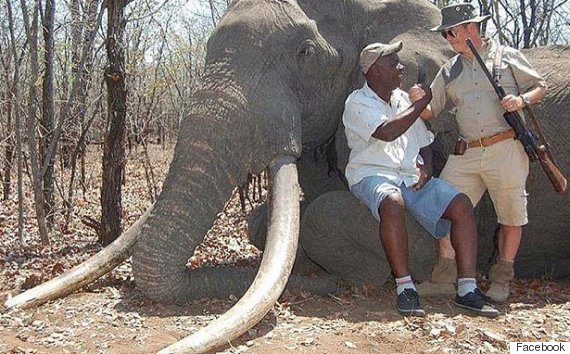 The hunter celebrates with a guide after killing the elephant
He had travelled to the country for a 21-day game hunt, which also included leopards, lions, rhinoceros and buffalo.
The elephant, thought to be between 40 and 60 years old, was killed in a private hunting concession bordering Gonarezhou, but had not been seen at the park before.
While lauded in online hunting forums, the kill sparked outrage among many social media users, including comedian and animal rights advocate Ricky Gervais…
German Hunter pays 40K to kill Africa's biggest elephant

http://t.co/jxkkLrUubV Can I pay 40K to knock Germany's biggest twat's teeth out?

— Ricky Gervais (@rickygervais) October 15, 2015
Does he feel like a big man now? What a toad.

'Biggest elephant shot in Africa in 30 yrs cf. Cecil the lion.' http://t.co/3PYpdU67Ge

— Pitt Griffin (@pittgriffin) October 16, 2015
How is this allowed! German hunter pays £39,000 to shoot biggest elephant in 50 YEARS

http://t.co/iVAzqIjeF2 via @MailOnline

— Phoebe Watson (@BebeWatson) October 16, 2015
@Telegraph What is wrong with this man? This behaviour in the 21st century should result in an international criminal record.

— Daniel Kirmatzis (@Historyandlife) October 16, 2015
@Telegraph stop promoting shit like that (on the basis that any publicity is good publicity)

— Chris Edwards (@Christof62) October 16, 2015
@Telegraph How much for a Permit to shoot him?

— Sunil Kajaria (@sunilkajaria) October 16, 2015
Earlier this year, American dentist Walter Palmer faced a huge backlash after shooting dead a beloved lion in Zimbabwe as part of a hunt.
He was said to have paid some £35,000 to guides to let him kill black-maned lion Cecil with a bow and arrow in July.
Cecil's body was found decapitated and skinned outside Hwange National Park.
Palmer maintained he had done nothing wrong, as he believed that he had secured the correct legal permits and had professional guides.
SEE ALSO: