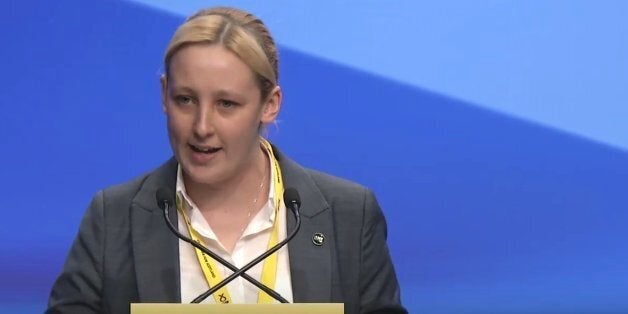 Mhairi Black has launched a fierce attack on the "cruelest policies imaginable" from the Tory government as she received a huge standing ovation today when she took to the stage at the SNP's conference in Aberdeen.
The Scottish nationalists are gathered for their annual get together, five months after romping to victory at the general election by winning 56 of Scotland's 59 seats.
A smiling Black told the applauding SNP members: "That's not bad."
Black is the breakout star of the SNP's 2015 intake. The 21-year-old has already made her mark in Westminster having beaten former Labour shadow cabinet minister Douglas Alexander in Paisley and Renfrewshire South at the election.
She used her speech, today to attack the austerity measures being imposed by the Conservative government in Westminster. "When I first spoke at conference it was roughly a year ago and it was just after the referendum," she said.
Reading form hand-written notes she said: "The second time I spoke I did so as a parliamentary candidate. The third time I am now speaking to conference as member of the UK parliament.
"The reason I mention this journey because it is symbolic of what has happened in Scotland over the the last year. The idea that a then 20-year old chip shop fryer could become a MP would have been laughed at, but not anymore."
Black said the Westminster parliament was "a top down out of date and out of touch one" and said she often found herself looking at Tory MPs and thinking: "Are you genuinely so out of touch that you can't see the damage your politics are doing or do you just not care."
"We are witnessing some of the most right wing and cruelest policies imaginable being passed in front of my very eyes I know I don't have to explain to anyone here how deep the wounds are that are left behind after a person experienced a Tory cut," she said.
Black said she was "tired of being lectured by tories as to why austerity is essential" and praised the Scottish government led by Nicola Sturgeon for not agreeing to the "economic madness" of cuts.
"I am tired of being told pain and misery are necessary for a stronger economy and for a long term economic plan," she said.
In July, Black made waves after delivering a impassioned speech against the Conservatives in her first contribution to the Commons.
Video clips of the speech went viral online, with over 10 million people viewing her challenge to Labour to return to its roots.
Popular in the Community