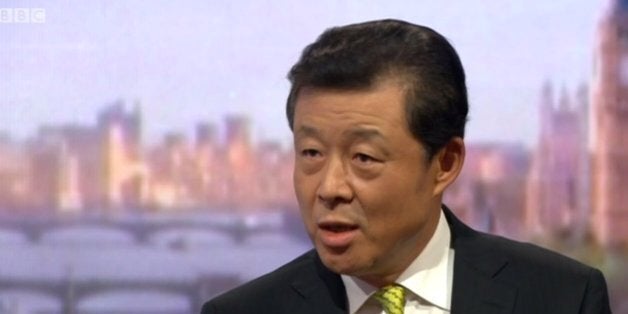 China's UK ambassador today claimed his country "does not shy away" from talking about its human rights record, as he argued Jeremy Corbyn should not raise the issue at a state banquet.
Speaking on the eve of Chinese President Xi Jinping's first state visit to the UK, ambassador Liu Xiaoming said his fellow countrymen cared more about housing, jobs, and quality of life than human rights.
Speaking on the BBC's Andrew Marr Show this morning, Ambassador Xiaoming said: "You think Labour party will raise this issue at a state banquet? I don't think so. The president is here for co-operation, for partnership, he's not here for a debate about human rights.
"We all know China and the UK differ very much because we have different history, different culture, we are in different stage of development.
"It's natural we have differences, even in regard to human rights. In China we care more about rights to better life, to better job, to better housing."
He went on: "I think the State Banquet is for Her Majesty – it's her show.
"Either Jeremy Corbyn or others are her guests.
"I think the British people are very gentlemen[ly], very smart. They know how to behave on occasions like this. But we do not shy away from discussions about human rights.
"In fact I had a good meeting with Jeremy Corbyn last week."
President Xi's visit is the first to the UK by a Chinese leader since his predecessor Hu Jintao's trip ten years ago.
Downing Street has said it has 'turned the page' on the row over Mr Cameron seeing the Dalai Lama three years ago, a move which sparked a backlash from China. Ever since, the Treasury has been trying to boost trade links and win investment for projects like nuclear power and HS2.
George Osborne lavished praise on the Chinese during a visit last month, but human rights groups believe that the Government needs to do more to highlight key issues.
Prince William visited China in March, becoming the first high-level British royal to go to the country since The Queen and Prince Philip, visited in 1986.
Kerry Brown, a former British diplomat in China and the author of a forthcoming book on Xi, has said that Britain's China policy is clearly being dictated by the Treasury, with thorny issues such as human rights pushed to one side.
"[Xi Jinping's visit] is going to be remorseless and relentlessly about parting the Chinese and their money. That is really what we are interested in," Brown said.
A Downing Street spokesperson said that Mr Cameron's focus would be on the 'development' of UK-China relations and it was 'down to others' how they approached things differently.
Popular in the Community