Gardaí found 1.8 kilos of a powdered substance thought to be amphetamine during an inspection of her luggage. It has been sent to a laboratory for further analysis, the Irish Times reported.
It is understood that the Angolan woman came forward to say that she knew the man after he was pronounced dead.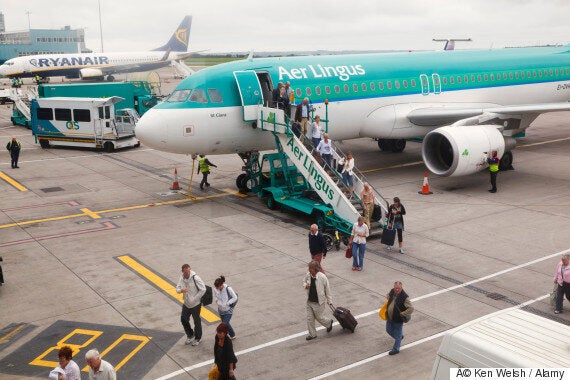 The plane's passengers were held for a while at Cork airport while the Irish Gardaí completed preliminary investigations into the death (File photo)
Irish Gardaí are hoping to know more about how the male passenger died with the results of a post-mortem examination due to take place later on Monday.
The 25-year-old is thought to be Brazilian.
Officers attended the aircraft after its emergency landing at Cork and interviewed all passengers and crew as part of their investigation.
The plane itself has been secured for a full forensic examination.
Investigators are now hoping that the results of a post-mortem examination will establish whether substances were involved in the death of the man, who became agitated and aggressive mid-way through the flight from Lisbon.
Passengers report hearing the man become audibly distressed and physically aggressive as he tackled a man who came to the aid of cabin crew.
The pilot of the plane declared a "medical emergency" and diverted the Dublin-bound flight at 5.40pm on Sunday.
A second man was taken to hospital after the incident, and it is believed he was treated for injuries sustained during some sort of altercation.
Aer Lingus confirmed an incident on its Lisbon service in a statement. The airline said: "Aer Lingus flight EI 485 Lisbon to Dublin, diverted into Cork due to a medical emergency on board.
"There were 168 guests and 6 crew members on board.
"The flight landed safely at 1740 local time."
Gardaí told HuffPost UK: "The flight was diverted to Cork airport when the man on board became agitated.
"He was attended to by a doctor and nurse who were on the flight but was pronounced dead at the airport at 6.40pm.
"The woman, who was travelling on an Angolan passport, was arrested at 11pm and is detained at Togher Garda Station."
She can be held for up to seven days.
Popular in the Community